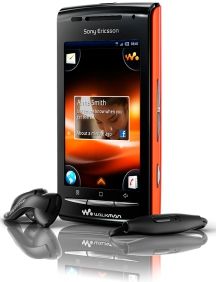 Sony Ericsson has revealed the W8 Walkman Android handset in a low-key announcement. The phone has appeared in the product section on Sony Ericsson's with no attached press release. From what we can tell the handset appears to rebadged Xperia X8 with Walkman branding, although it does come with a MH 410 stereo headset.
It comes with the same four-corner shortcut UI as the Xperia X10 mini and X8 smartphones and has quick and easy to access playlists. Like the Xperia X8, the W8 comes with a 3-inch display and features a 3.2MP camera and 3.5mm headphone jack. Also, like the X8 the handset only comes with Android 2.1 Éclair (rather than v2.3.2 Gingerbread seen on recently released handsets).
The phone will be available in China, Hong Kong, Indonesia, India, Malaysia, Philippines, Singapore, Taiwan, Thailand and Vietnam from Q2 2011 in three different colours (Azur, Metallic Red and the iconic Walkman Orange).