The Sony Ericsson LT28at model has appeared in the AnTuTu benchmark. This is interesting for several reasons. Firstly the 'at' part in the model number suggests that this variant will run on the AT&T network in the United States. More than likely it will be compatible with AT&T's 21MBps HSPA+ 4G network, much like the Xperia PLAY 4G (R800at).
Secondly, the performance numbers from the benchmark put it on a near identical level to the Sony Ericsson LT26i (Nozomi), which also appeared on AnTuTu recently. This probably means that it will come with a dual-core 1.5GHz chipset like Nozomi and could even be the US version of that handset. However, if that were the case we imagine Sony Ericsoon would have used model number LT26at.
Even more confusing is that that the Sony Ericsson LT28i delivered a much, much lower score on the same benchmark (2443 versus 6240 for the LT28at). If the LT28at and LT28i are very different phones (as the benchies suggest), why are the model numbers so similar? If you look at the Xperia PLAY it has a consistent model number (R800i, R800a, R800x, R800at) across variants. We're still scratching our head on this discrepancy, but we hope it all becomes clear soon.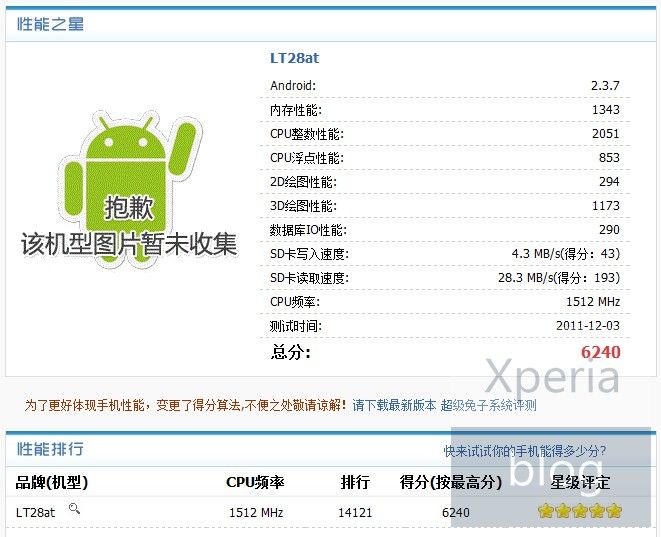 Via AnTuTu.