Sony Ericsson reported Q4 2011 net revenues of €1,288 million, a 16% drop versus a year ago and a 19% fall compared to the previous quarter. The company blamed the fall on a number of factors including intense competition, price erosion, weak macroeconomic conditions and the Thailand floods. This led to SE reporting an operating loss of €227m driven by lower margin (due to price competition) and higher R&D expenses.
Sony Ericsson said that 28 million Xperia smartphones had been shipped to date, an increase of 6 million units since the Q3 2011 results. In terms of sales, Xperia smartphones saw a 65% year-on-year (YoY) increase in sales during Q4 2011 and now contribute around 80% of sales. Overall it shipped 9m units altogether, around 5% lower than the previous quarter, mainly due to an exit of the feature phone business.
Q4 2011 ASP (average selling price) of €143 had declined since Q3 (€166). This is not what we would have expected considering that lower feature phones and higher smartphones should mean higher selling prices. The company put this down to intense price competition and no new product launches in the fourth quarter.
Sony Ericsson calculates its own Android market share at 10% in volume and 7% in value during Q4. In the past, Sony Ericsson has always talked about aiming to be the number one Android vendor, however, there were no such targets mentioned in this morning's conference call. Perhaps, these targets are being reassessed by Sony following the acquisition of the Sony Ericsson joint venture.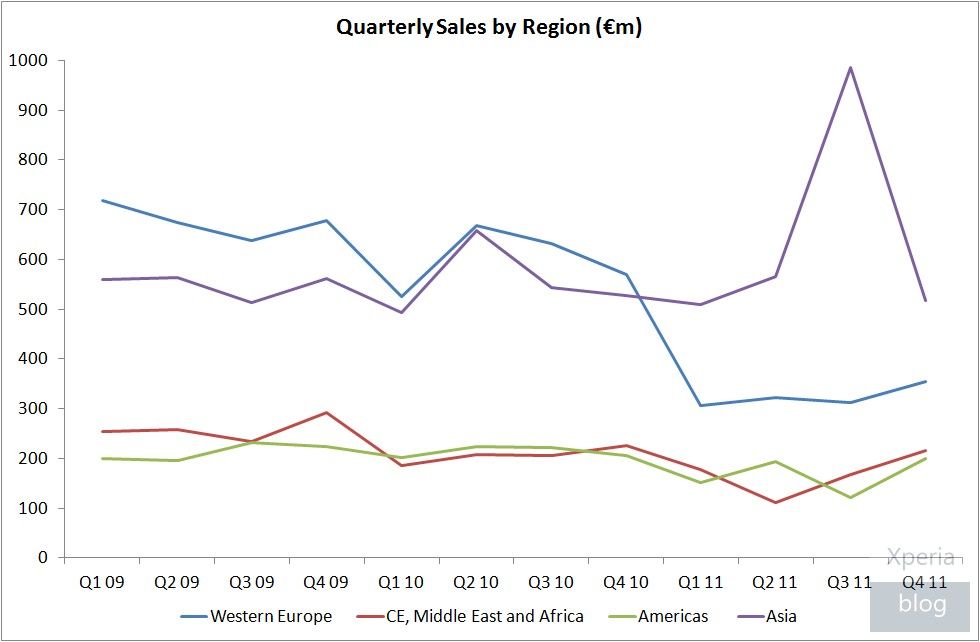 You'll notice in these graph, that there was a large decrease in Asia sales during Q4. This was in part due to a very strong Q3 in Japan attributed to the Xperia acro. However, more competitors are breaking into the Japanese market and price points are coming down, which Sony Ericsson says contributed to the decline in sales. Unfortunately there has been steep sales declines across all regions since early 2010, we would expect a large part of this is down to moving away from feature phones.
This chart below shows overall Sony Ericsson sales that show revenues have broadly held up – most likely to be smartphones propping up the decline in feature phone revenues.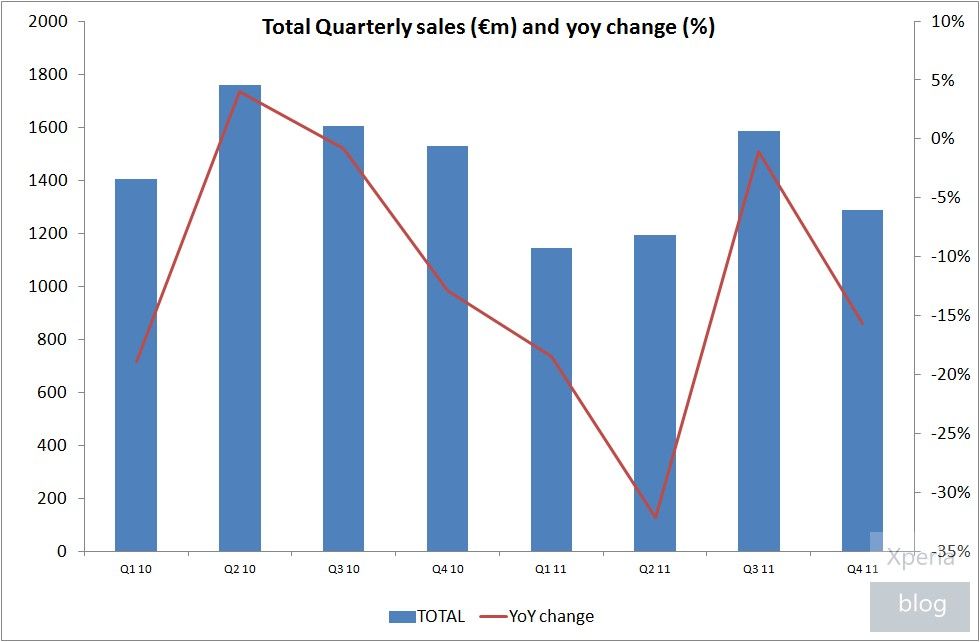 Looking at this on a 12-month rolling basis and you can see that Sony Ericsson need to do a lot of work to arrest the decline in revenues overall.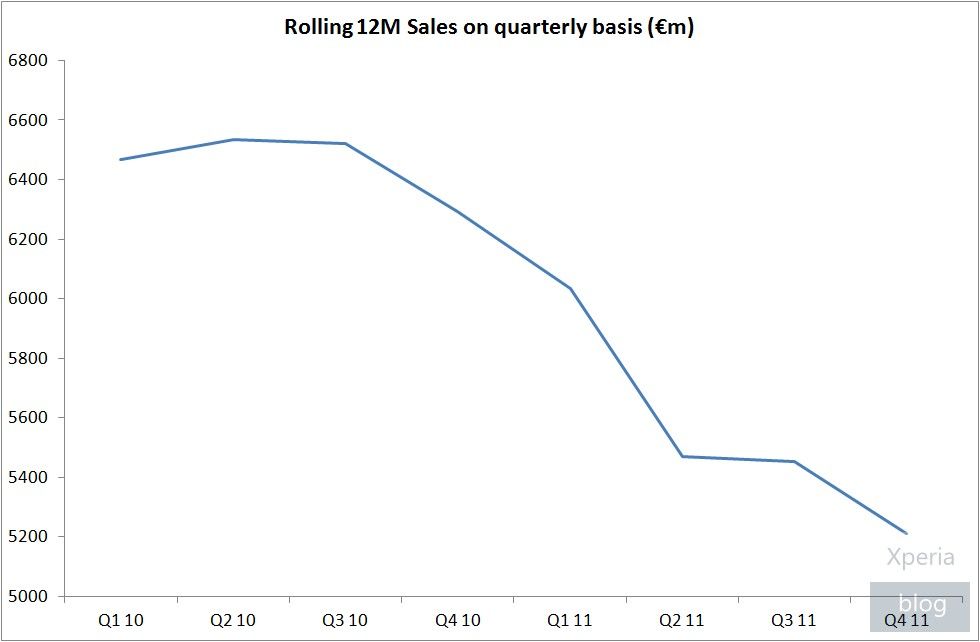 Here you can see the ASP figures in Euros that were trending up (until the last quarter) mainly due to a much lower penetration of feature phones. Sony Ericsson confirmed that 80% of its Q4 sales came from smartphones. Sony Ericsson said that consumers had a preference for larger screen smartphones which was challenging the performance of the Xperia mini line. This could be the reason why the smallest 2012 Xperia leaked so far has a 3.5-inch display, rather than the 3-inch display of the Xperia mini or mini pro. This may be an ominous sign for Xperia mini fans, wanting a smaller Android handset.
The geographic sales mix over time shows some interesting trends. Asia has become a crucial segment for Sony Ericsson, whilst the Americas and CE, Middle East and Africa haven't moved too much since 2009. Sales from Western Europe are a much lower part of the business mix (28 percent versus 41 percent in Q1 09).
Android Xperia shipments are trending up nicely, although we're sure that Sony will be targeting more aggressive shipment numbers. The company also talked about the US market and said that it took longer than expected to release a targeted phone. Obviously we all know about the Xperia ion and SE said that now that the first phone has been developed with AT&T, the second and third phones should come around a lot quicker. CEO Bert Nordberg also said that they have found the Sony brand is stronger than Sony Ericsson in the United States, which should mean greater awareness on launch.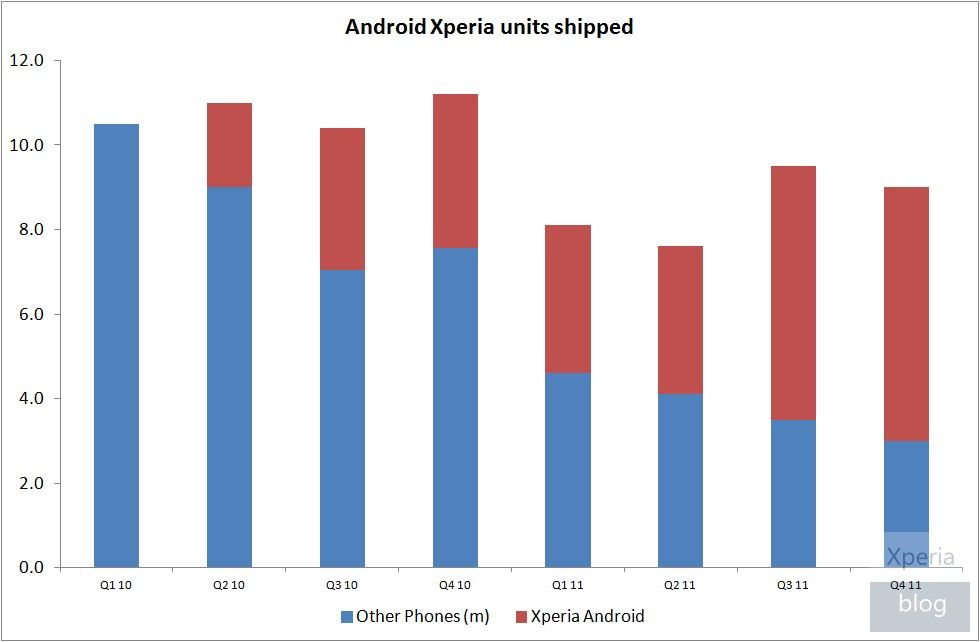 Via Sony Ericsson [PDF].