The long-awaited Android 4.0 Ice Cream Sandwich update finally started to roll out for the Sony Xperia S earlier this week. Sony Mobile's 2012 flagship which launched in March 2012, always felt it was missing something on Android 2.3 Gingerbread, despite the firmware being very stable. Indeed one of the biggest criticisms of the Xperia S from reviews at launch was the lack of ICS.
In many ways, it feels that the true Xperia S experience starts here, now that ICS has arrived. We have been testing the 6.1.A.0.452 firmware, which introduces Android 4.0.4 and the 3.0.8 kernel, over the last few days and given the sheer number of changes we thought we'd post a firmware review. Click through for our full impressions below.

6.1.A.0.452 Firmware Review (Android 4.0.4)
The Android 4.0.4 Ice Cream Sandwich update comes to the Sony Xperia S in firmware build number 6.1.A.0.452. We also see a brand new 3.0.8 kernel that brings its own efficiencies including better power management.
Lock Screen – direct access to camera and notifications
The lock screen now allows you to access the camera by swiping the slider from right to left. Now this is an ICS feature so we can understand why Sony chose to use it, however the Xperia S already features 'Fast Capture' which allows you to immediately use the camera from a locked screen by holding the camera button. It works well and you can set it up so that it either launches the camera and takes a picture or just launches the camera interface only.
Therefore we would have preferred it if the previous 'slide to silence' feature remained. It was useful in many situations especially for meetings. For other manufacturers that don't have Fast Capture, we can understand why this 'slide to launch camera' would be useful, but it wasn't needed for the Xperia series. The Xperia S now has two ways of accessing the camera from a locked handset which is not necessary.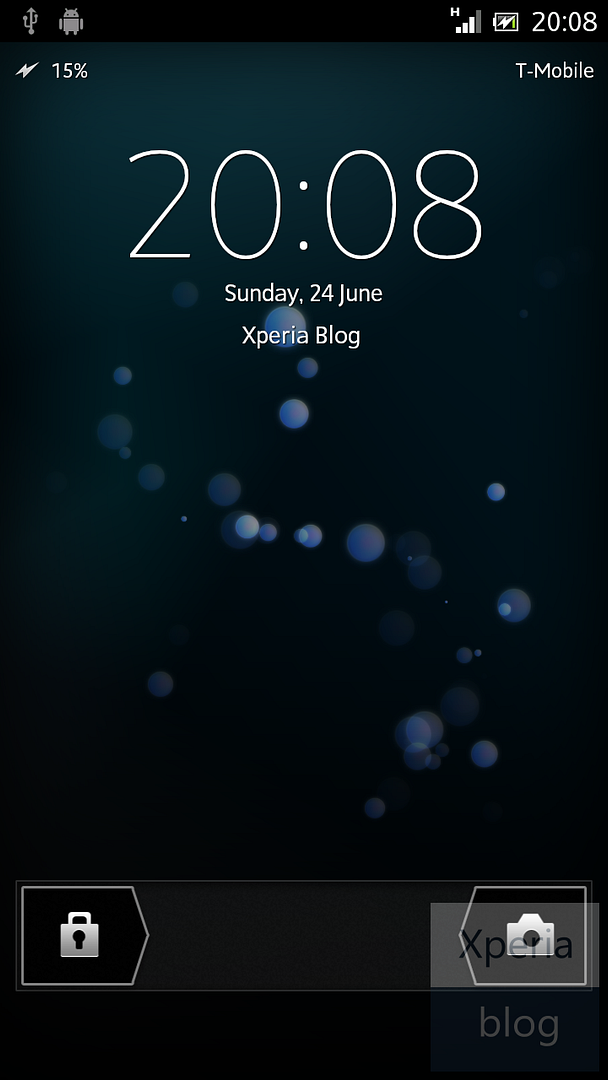 Users can now choose which notifications to appear on the lock screen. This can now be accessed as follows: Settings > Display > Lock screen settings. This allows users to hide detailed information on the locked screen as well as choosing whether you want missed calls, new messages, new emails and calendar events to appear.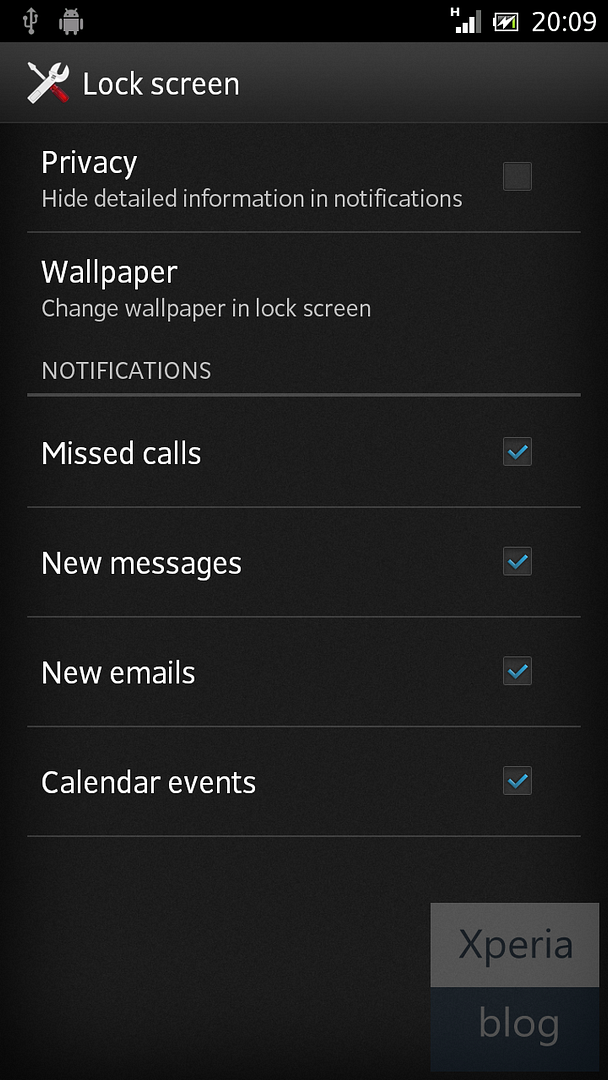 Another useful change is that you can now directly access notifications from the lock screen by simply swiping from left to right. For example if you receive a text message, you can access the message by swiping on the notification in the lock screen.
Users of the Xperia S already had access to lockscreen music controls but one of the issues we always previously had is that this would only work for the stock music player. However, an available API means that this player also now works with other music apps including Google Music. A godsend.
Menu Button optional
One of the big changes that Android 4.0 ICS brings is that Google has now made the Menu button optional. Apps that have been designed for older versions of Android will now get an on-screen Menu button. If you have been using Android for a while and haven't used ICS before, you will probably find this a bit disconcerting. Even with the same handset, it will probably take some time to get used to the change.
For example, pressing the Menu button on the Xperia S no longer brings up the pop-up that allowed you to access Settings, Wallpaper and Themes. It instead launches a small bar from the top with two icons. The paint brush icon on the left allows you to change Wallpaper and Themes (these are the same as in Android 2.3.7). The + button on the right gives you access to widgets which we'll discuss later. This bar can also be accessed by long pressing onto an empty part of your home screen.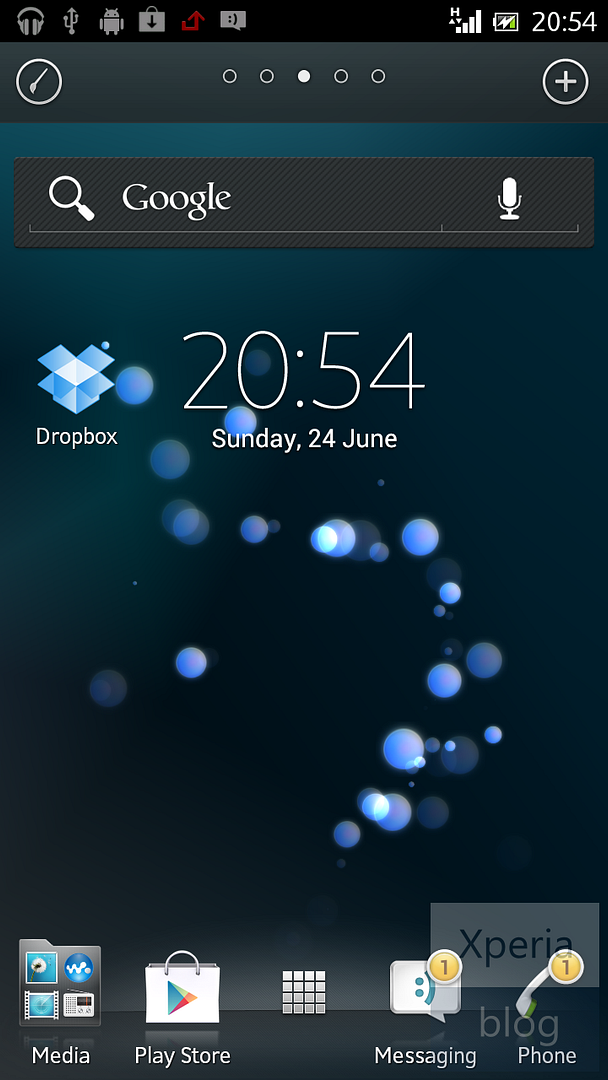 There are two ways to access the Settings menu: 1) You can launch it via the app tray or 2) You can access the Settings icon when you swipe down to access the notification pane. As there are two ways to access the pop-up discussed above, we wonder why Sony couldn't have kept access to the Settings from the Menu button. Either way, it's not too much of an issue.
Settings Menu
The Settings menu has now been grouped into four areas: 1) Wireless and Networks, 2) Device, 3) Personal and 4) System.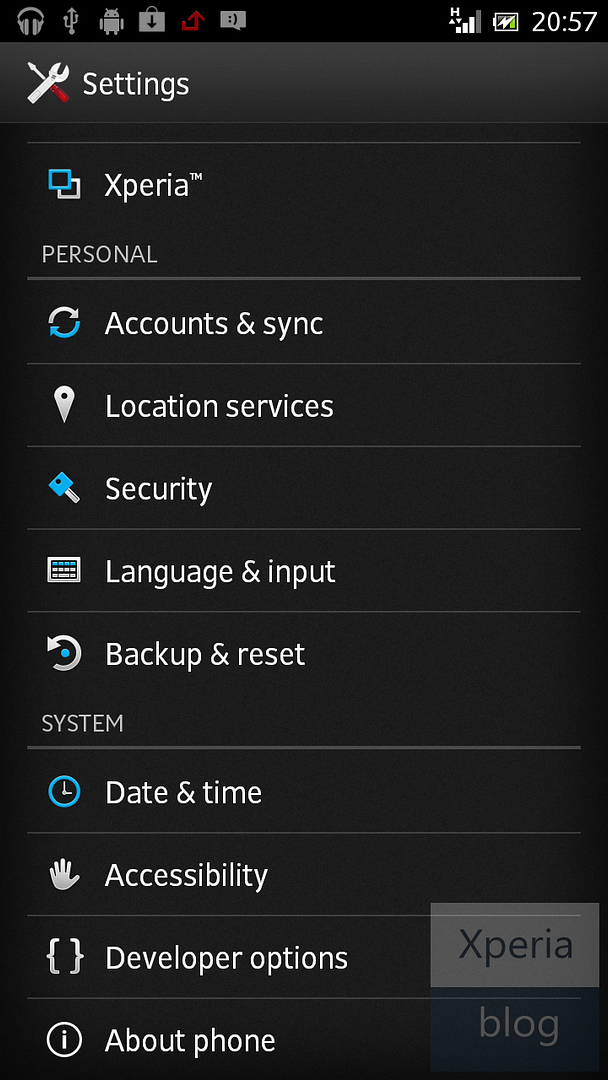 A new addition is a setting called 'Data usage' where you can set a mobile data limit and see which apps are using your data.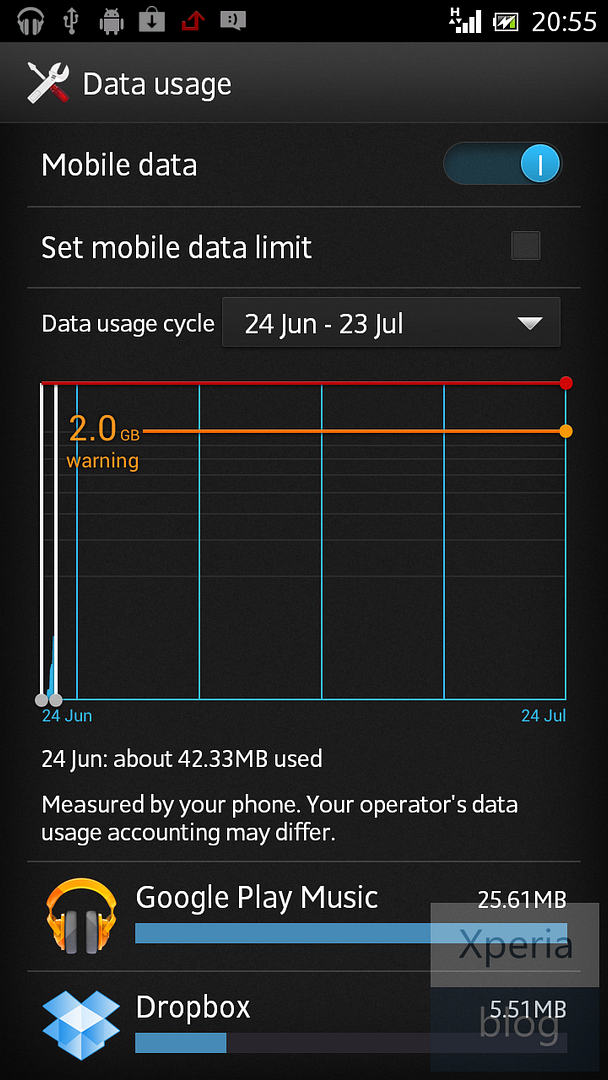 You can now also change font sizes (Settings > Display > Font size). Four options are available including small, normal, large and extra large. This is a nice feature to have especially for the older amongst us who may struggle to read the text on a smartphone.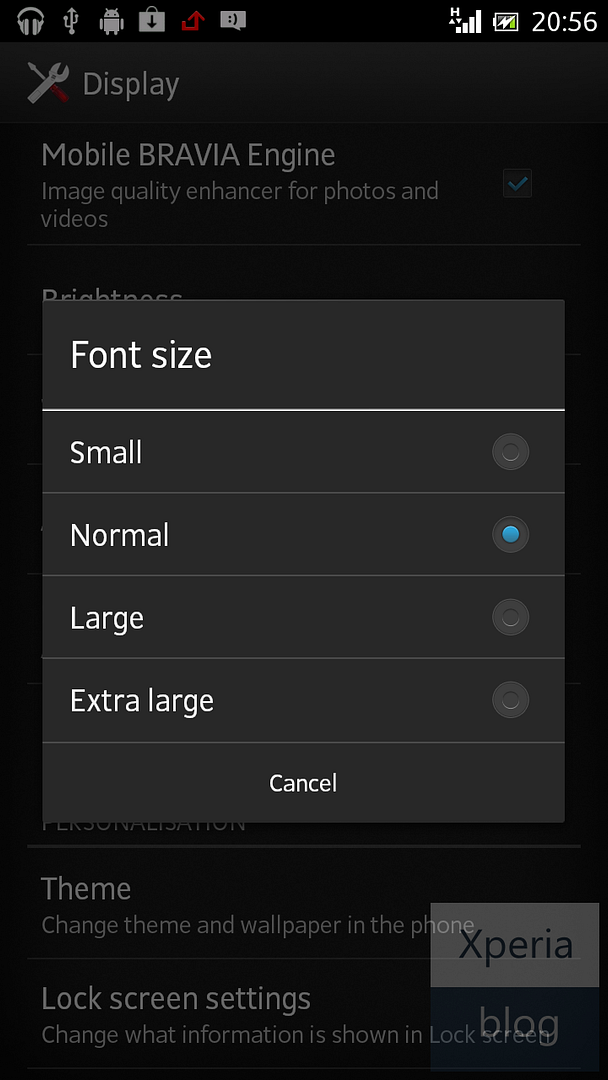 The Storage menu option now gives a neat graphical visualisation of how much data you have used and which category it falls into.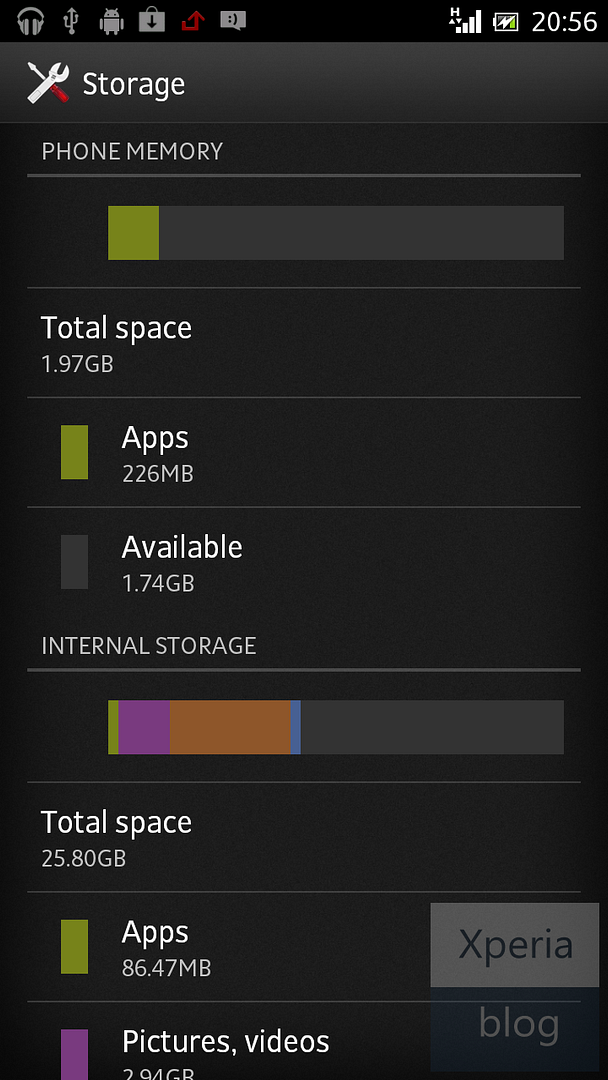 The Battery option is much the same as before but brings one critical addition – the percentage of battery charge left. We never really understood why this crucial piece of information was always left absent previously.
The Xperia setting now adds 'About PlayStation Certified' information.
The Security setting allows you to select Face Unlock. We feel this is a bit of a gimmick, it does work but not under all conditions. We still think it's safer to use a pin, password or pattern.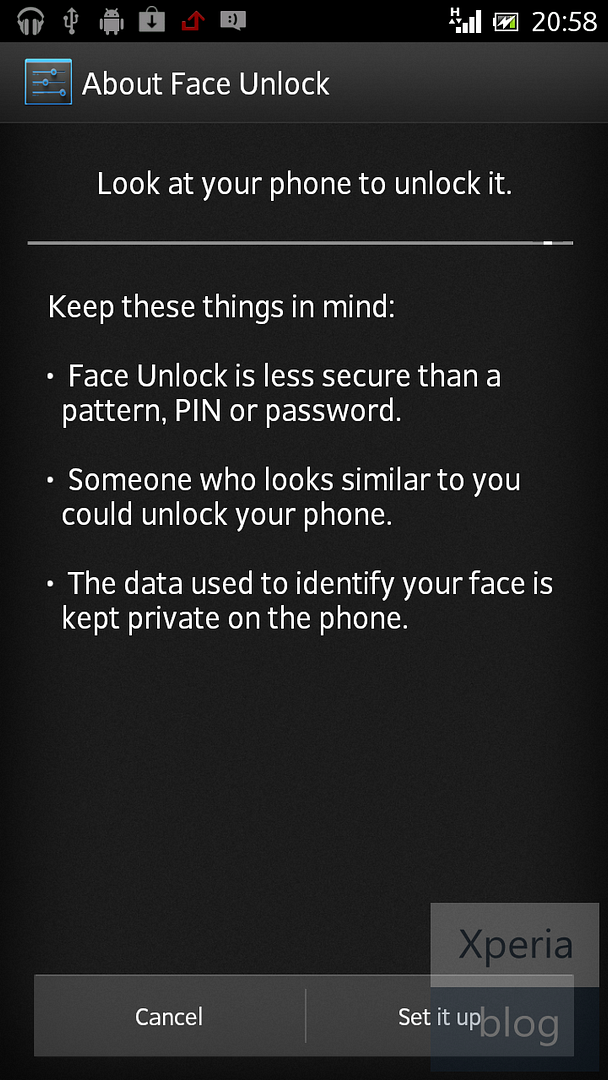 Another useful feature is Owner info. The idea behind this is that if your phone is locked and you lose it, you could place some owner info text that would help someone return the phone to you.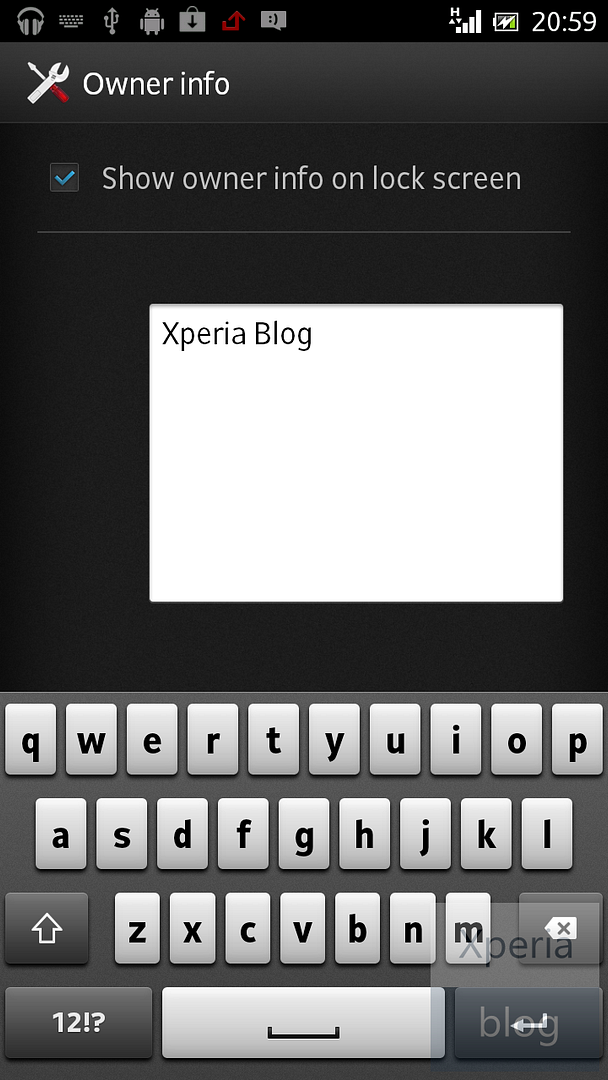 Android 4.0 ICS now brings many more developer options. In 'Settings > Developer options' there are many useful options to tweak your phone. One of the most useful is enabling hardware acceleration through 'Force GPU rendering' that should mean smoother performance on the phone.
Widgets resizable
You can add widgets by either long pressing on an empty part of the home screen or by pressing the Menu button. Click the + on the right side to bring up the 'Add to home screen menu'.
Android 4.0 ICS brings with it a number of different widgets with the main highlights being the Gmail widget, ICS calendar app and Power Save widget. Content like emails can also be scrolled. Another cool feature is that apps can now be resized. Just long press on the widget to bring up the template and then drag the corners to resize.
Browser improvements
Another big improvement in the ICS source code is a new browser that is not only faster than the previous version but also allows you to open 16 pages at any one time. Swiping down on a page brings the browser tabs icon on the top right, once you click on this you can see all of the pages open. To close a page you can simply swipe it away or hit the X on the top right. You can also easily access Bookmarks from this screen too.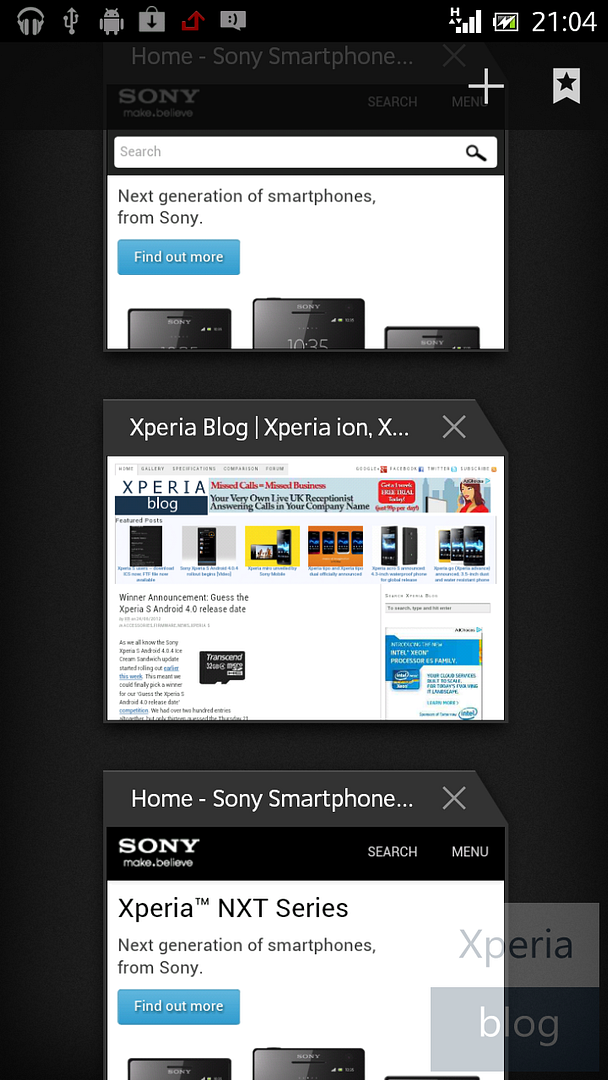 Clicking the Menu button whilst on a web page allows you to save a page for offline reading or request the desktop version of that site. Bookmarks can also be synced from your Google Chrome account.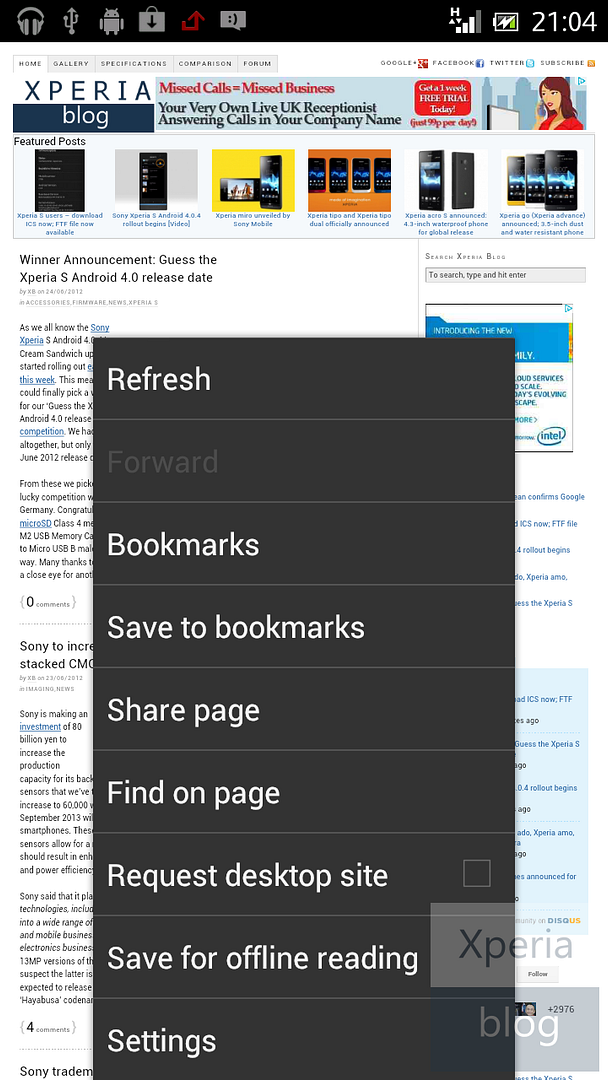 Notification menu – swipe away notifications
When you pull down to access the notification window, certain notifications can now be dismissed just by swiping them away.
Multitasking – Recent apps
To see your recently opened apps you need to simply hold down the home button for a couple of seconds. This brings a neat list of all of the open apps displaying the thumbnail of each. You can easily scroll through this vertical stack and easily close open apps by swiping it away.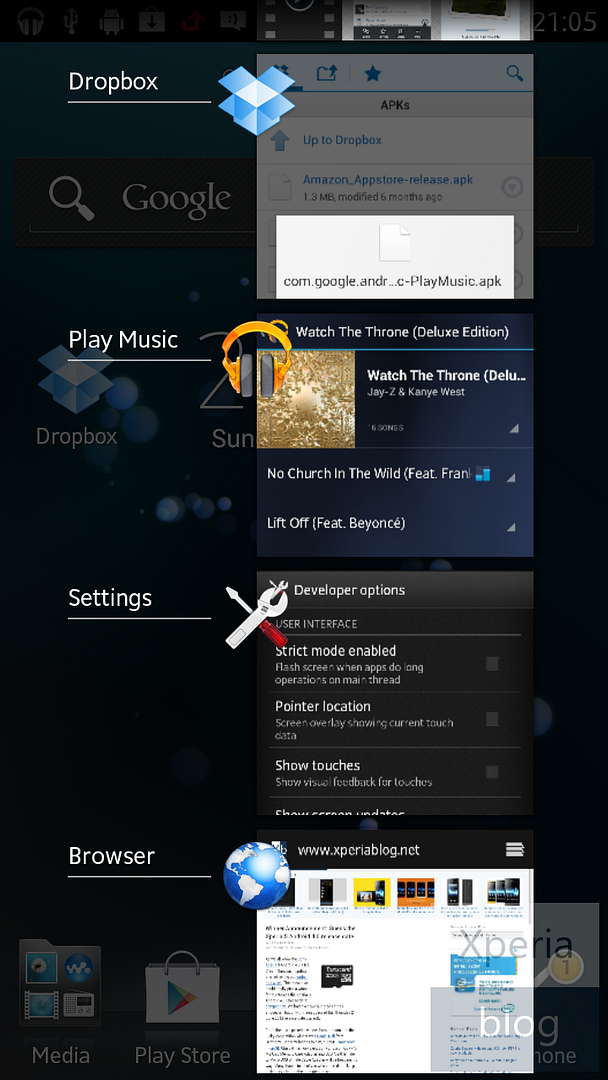 Extra Keyboard
You now get an extra keyboard to choose from. There is the 'Full keyboard' (the default), the 'Phonepad' (T9 experience) and now you also get the 'Full keyboard extra' which also includes numbers/symbols over the letters so that you can easily access these via a long press.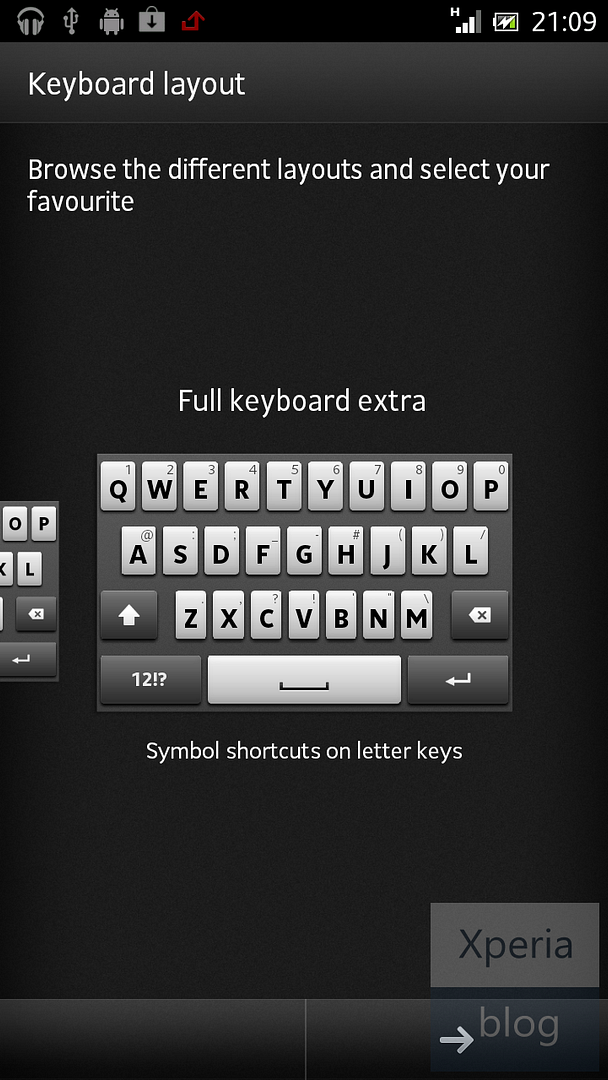 There is now also the option to select a secondary keyboard language so that you can get spelling corrections in two languages – good for the bi-lingual amongst you.
New text messaging options
There are several new options available to you when writing a text message this includes adding an album photo (this was previously available too), taking a new photo, make a note doodle, or sharing your location.
Respond by text to an incoming call
Users can now send a predefined text message if they cannot take a call for whatever reason. You can also create your own custom text. This is an ingenious idea and we're surprised it hasn't been implemented before. To activate this you simply swipe up whilst you receive a call, there will then be a number of text options that you can send.
Dialler adds Phone Groups
The dialler now adds groups to the already existing Contacts and Favourite tabs. Here you can group people into pre-defined categories such as Colleagues, Family and Friends.
Album is a brilliant gallery app
The Album app replaces the Gallery app on Android Gingerbread. Album is a vast improvement over its predecessor, loading pictures much faster as well as allowing you to easily scroll through content. You can also pinch-to-zoom or swipe left or right whilst browsing the gallery to make the picture thumbnails bigger or smaller.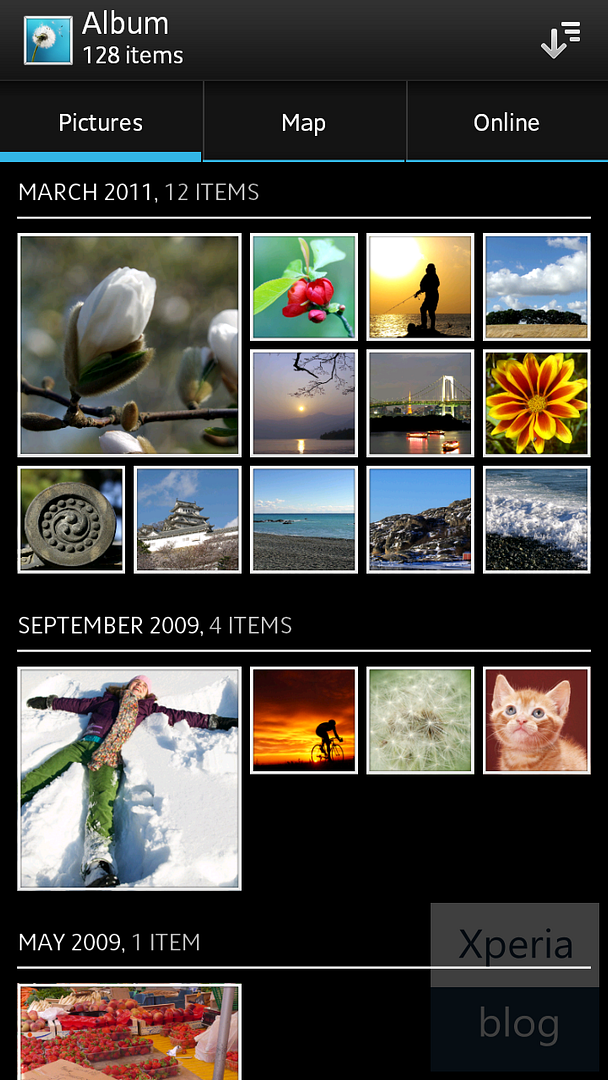 You can also browse by folder by clicking on the arrow on the top right.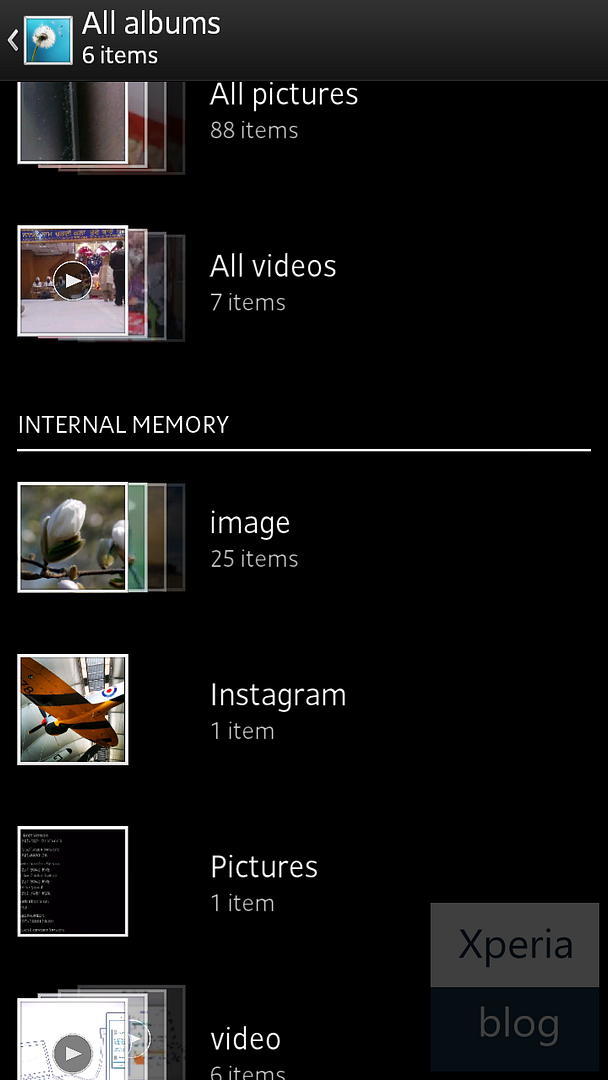 Other features include the Map tab that shows where photos have been taken if geotagging is enabled. There is also a search bar that allows you to search photos. The last Online tab shows you photos from your Picasa account.
Films app
This app will play any video content downloaded onto the device. There is a wide range of video support – we tried a range of mp4, and avi files which almost all worked perfectly. MKV files were a bit hit and miss however. It was nice to see that the player also adds thumbnails, description and cast information for some downloaded content.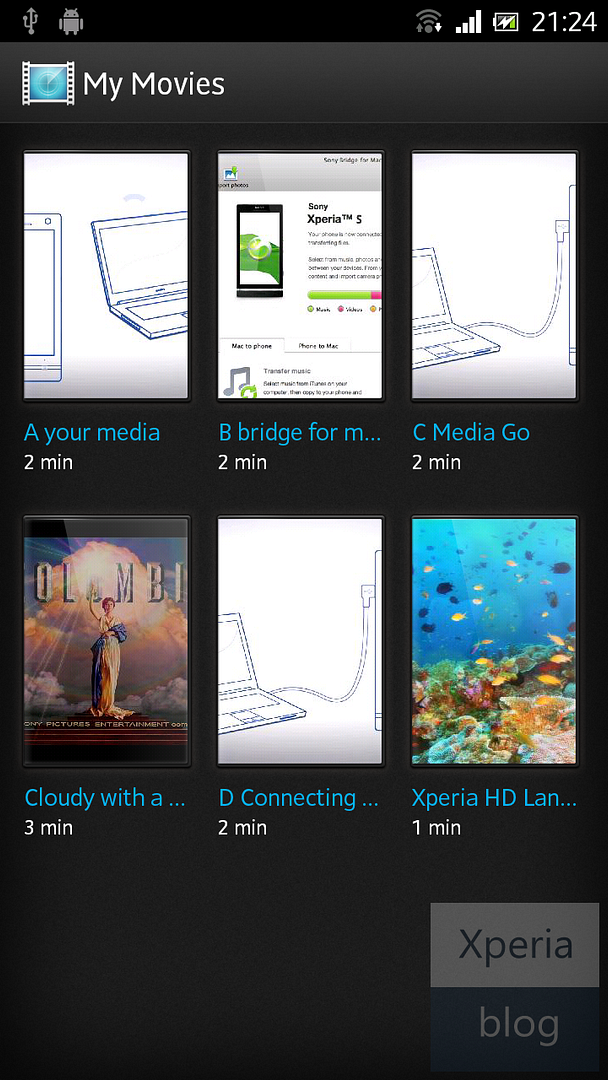 Walkman app with Visualiser and FLAC support
The Walkman app is mostly a re-skin of the already excellent Music Player that graced the device on Android 2.3.7. However, once of the big new improvements is the introduction of FLAC support, which is great news for music purists.
There is also a Visualiser that can be accessed via the settings. We're not sure whether anyone will really be looking at the screen whilst playing music but it would be great for when the handset is connected to a TV.
Updated Calendar app
The calendar app has been updated to bring together personal, work, school, and social agendas. Other apps can also add events to the calendar. It has also been redesigned and calendars are now colour-coded. Users can swipe to change dates and pinch-to-zoom in and out of agendas.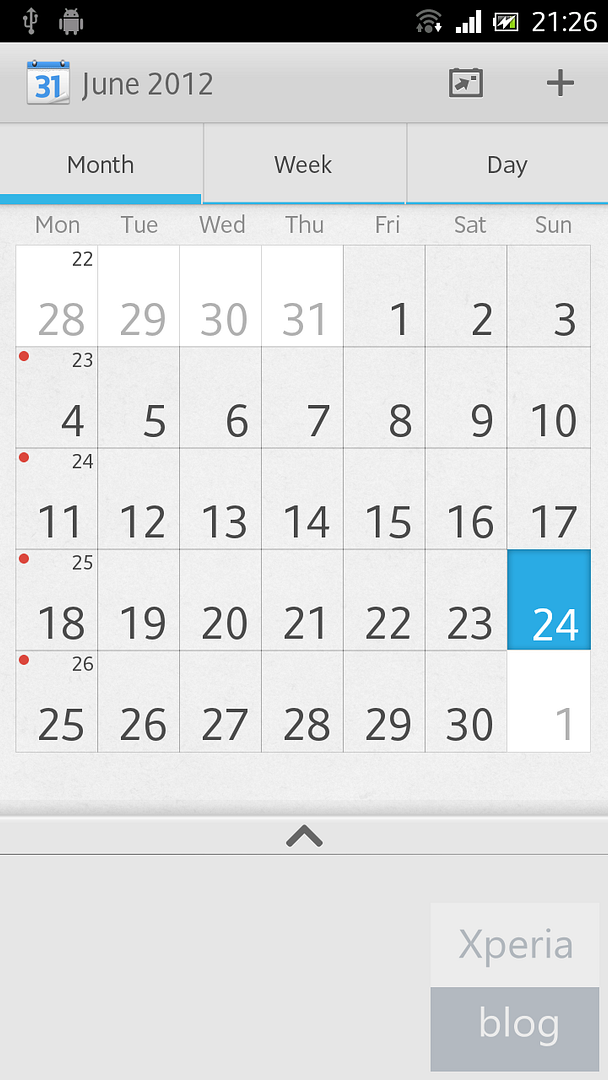 New app – Back up & restore
Sony has re-introduced a dedicated backup app which allows you to select storage destination (including a USB device with the appropriate cable) along with exactly what data you want backed up.
New app – Notes
A new notes app is available in the app tray that allows you to sync it with an Evernote account. You can either use the keyboard to write text or create a doodle instead or even use speech-to-text functionality. Seems like a nice new addition to us.
Other things we've noticed
Lower amount of free RAM
There now appears to be a lower amount of free RAM available now that ICS has been installed. This is not surprising given the higher overheads associated with ICS. However, it is worth noting that any 'used' RAM may be freed more efficiently when needed so it's not worth reading too much into this. In our use so far, we haven't noticed any performance issues.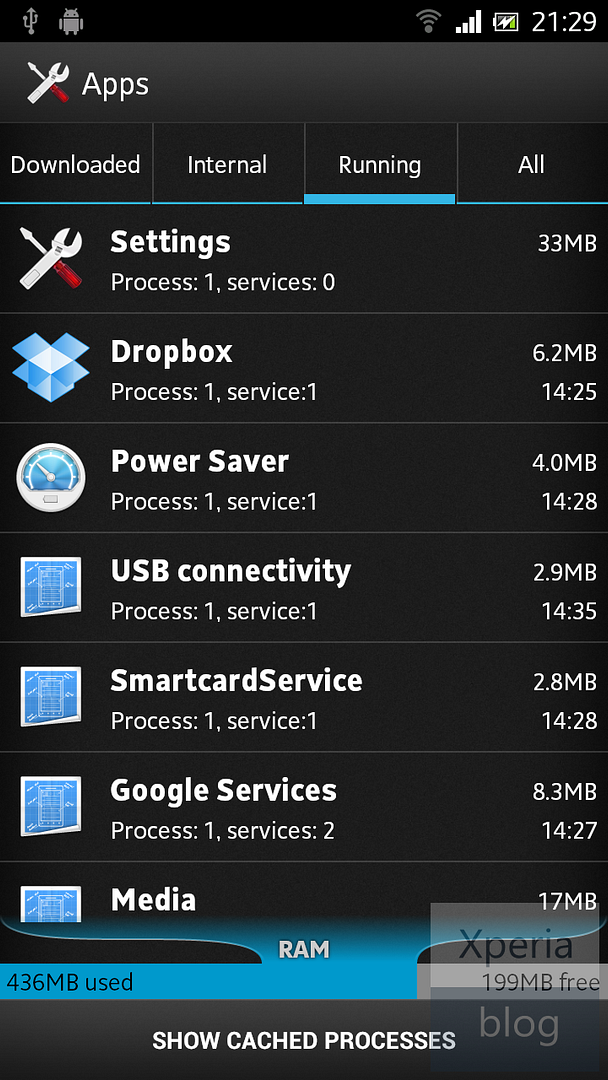 Respectable battery life
From our brief testing, the battery life usage appears to be at least good as the 6.0.A.3.75 and 6.0.A.3.76 Android 2.3.7 firmware. We will try and report back later on the week on how good/bad battery life has been over a few more days of use.
Higher camera video bit rates
Whilst the camera UI remains broadly unchanged, the bit rate for 720p and 1080p video appears to have increased. The 1080p bit rate has increased from 14mbps to around 20mbps whilst 720p bit rate has increased from 6mbps to around 12mbps.
Screenshot option removed from power menu
Holding down the power button now brings you a different menu compared to Android 2.3.7. Most users will probably notice that the 'Take screenshot' option has disappeared. Android ICS now allows you to take screenshots by holding down the power button and volume down button at the same time.
Final thoughts
As you can tell from the size of this firmware review, there have been some huge additions over the previous firmware. Some of these were baked into the Android 4.0 ICS source code and others Sony has introduced itself. We have noticed some people talking of performance and battery issues, but this has not been experienced by us so far. As a point of clarity, our Xperia S was given a clean install to ICS. We also did not use any backup apps to restore our applications, instead we re-downloaded them from the Google Play Store.
This has been a very worthwhile update in our view. Yes, there are still going to be a few bugs here and there that Sony Mobile will no doubt rectify in future updates. The Album and Walkman apps are a particular highlight for us, but the vast number of smaller changes makes the Xperia S almost seem like a new phone now that it is running ICS.
Some may still view the Xperia S hardware as being behind the competition, however the ICS experience is not compromised by its specs in our view. It was a long wait for Xperia S users, but now we have the experience that Sony had always intended when it launched the handset and for that we are delighted.