The Wi-Fi Alliance today announced the launch of the Wi-Fi Certified Miracast certification program. Miracast is related to Wi-Fi Direct in that it allows source and display devices to discover and connect to one another at the push of a button – for example a smartphone/tablet to a television. However, Miracast builds on this to negotiate video capabilities, setup content protection (if needed), stream content, and maintain the video session.
The connections between devices are formed using Miracast-certified products, so there is no need to be connected to a network. Users can then share photos or videos from their phone to their TV. Other examples include sharing a laptop presentation to a projector/television or 'streaming' live TV programs onto your tablet.
httpv://www.youtube.com/watch?v=6F_wyyZg5sI
Sony Mobile is supporting the standard, so we can expect future Miracast Certified Xperia handsets. As things stand, only three devices will be Miracast Certified – the Xperia T, Xperia TX and Xperia V. This feature is expected to go live on these handsets in November 2012.
Nikolaus Scheurer, Director Marketing Planning for Sony Mobile Communications, has this to say about Miracast: "Sony Mobile is pleased to support the Wi-Fi CERTIFIED Miracast certification program. We continuously strive to deliver new exciting user experiences and Miracast technology will enhance our ability to offer consumers seamless connectivity to move their content freely between smartphones and other screens."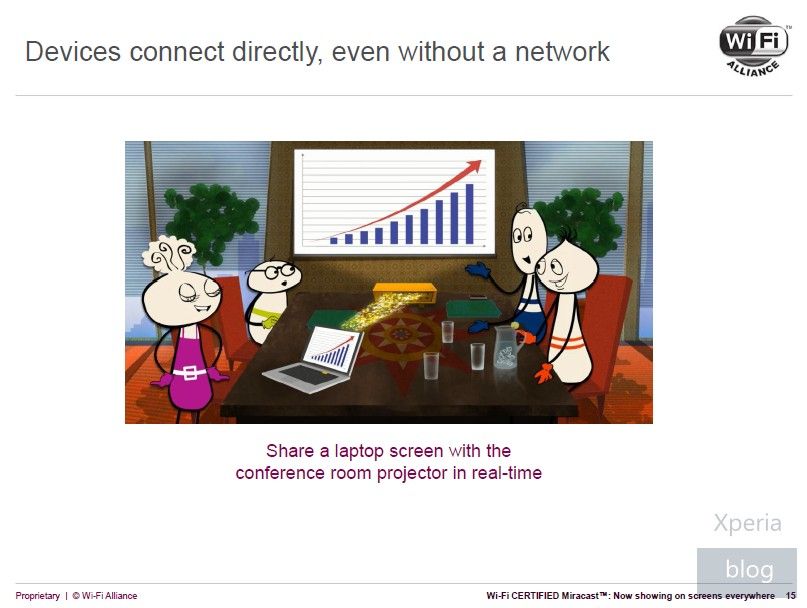 Further reading:
Miracast White Paper
Miracast Q&A
Miracast Presentation