Sony Ericsson is the first mobile manufacturer to launch its own channel in the Android Market. The update that started rolling out earlier today replaces the 'My apps' icon in the Android Market for 'Sony Ericsson'. Don't fret though as My Apps can still be accessed by hitting the menu key.
What this means is that it gives you access to all of the apps published by Sony Ericsson including those for LiveView, Timescape API plugins, Xperia Hot Shots and LiveWare among others. We have not seen it our handsets yet, but it is operator dependent so I'm not sure how that affects sim-free handsets.
SE has outlined their plans for this channel which will include offering exclusive apps & games from time to time, provide recommendations as well as helping developer partners to promote their apps/games. Whilst we can see why SE is doing this, personally we'd rather have access to the My Apps icon on the front page, or at least an option to turn this on/off.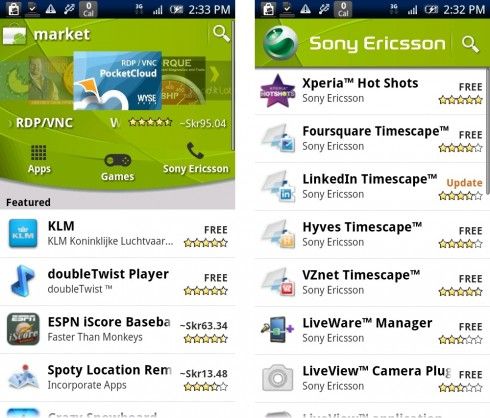 Via SE Product Blog.