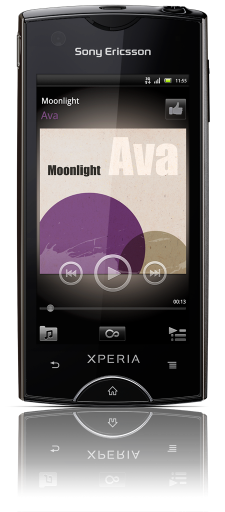 Sony Ericsson has announced a number of new handsets today at CommunicAsia, just as we expected them too. The most exciting is the Xperia ray which you should think of a smaller version of the Xperia arc. It comes with a 3.3-inch display but retains the same 854 x 480 pixel resolution found in the larger 4.2-inch Xperia arc. The Xperia ray also is clad in an aluminium frame measuring just 9.4mm in thickness. It certainly looks like one of the sexier Android offerings out there.
As the rest of the Xperia range, it will come armed with Android Gingerbread and the new Facebook inside Xperia functionality. Other features include a 1GHz processor, 8.1MP Exmor R camera sensor, 720p video recording, a Reality display with Bravia Engine and a front facing camera (not found in the Xperia arc). It will also include a 1500mAh battery, which should mean impressive battery life. In fact the only main feature the handset doesn't sport is HDMI output. The phone is set to launch at some point in Q3 in four colours (Black, Gold, White, Pink).
The dilemma of choosing between the Xperia arc, Xperia Neo and Xperia Ray (all with similar feature sets) now just became a lot harder. Check out a number of promo videos below including a hands-on video from SE-First. The white paper can be downloaded from here.
httpvh://www.youtube.com/watch?v=ElM3Kbcg_qY


httpvh://www.youtube.com/watch?v=ykjrD_8anyw


httpvh://www.youtube.com/watch?v=Ov08br-tELU