Sony Ericsson has just reported its third quarter results for 2011. Sales of €1.586bn was up 33% from the prior quarter but down 1% compared to the same period last year. These numbers mask the mix change taking place within the company as it moves away from feature phones to smartphones. CEO Bert Nordberg confirmed that smartphones contributed 80% to total sales during Q3.
The company shipped 9.5 million units altogether in Q3 2011, an increase of 25% from Q2 due to a higher volume of smartphone shipments. Since the launch of the Xperia X10 back in March 2010, Sony Ericsson has shipped 22 million Android Xperia phones to date. The company once again confirmed that Android is its main focus as it moves into 2012. In terms of share, Sony Ericsson believes that its global Android market share was 12% in volume and 11% in value during Q3 2011.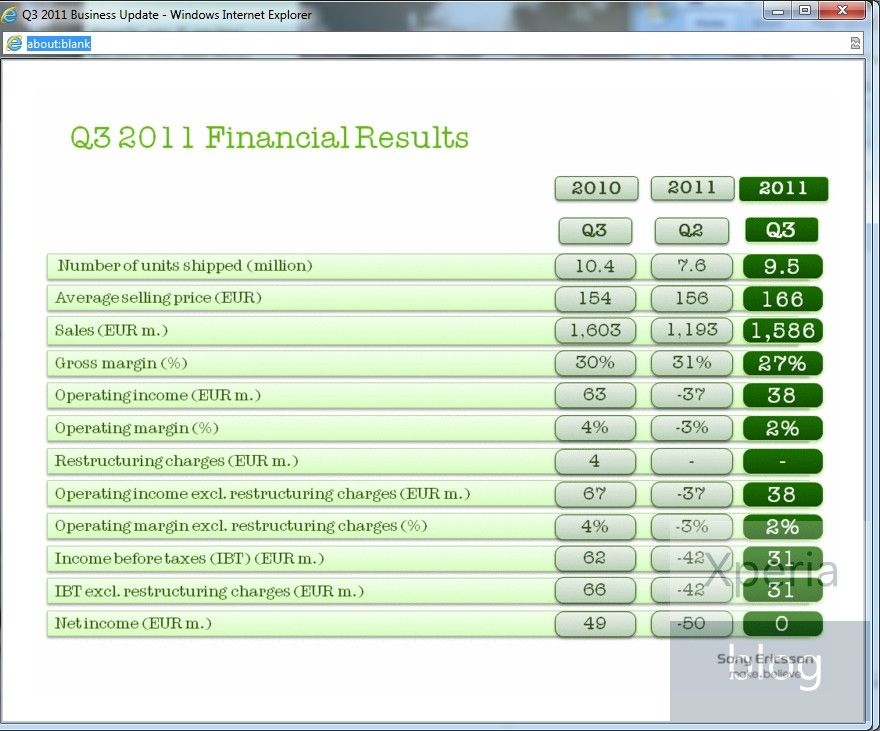 We listened to the conference call but it didn't give too much away. SE executives refused to answer questions on its ownership structure (not surprising). They also talked about the very strong sales of the Xperia acro in Japan and the Xperia ray, which was interesting. The Xperia acro has been a best-seller in Japan for a number of weeks according to the company.
It also commented on the US and in particular the Verizon Xperia PLAY, where they said the partnership was going "very, very well". Numbers are increasing every week but the proposition is different and that they are currently building out the ecosystem. Whilst there was no new news on the higher-end smartphone segment, Sony Ericsson did say that it was looking at the lower price points of Android phones, particularly for emerging markets. If you want to read more click here for the PDF release.