Sony Mobile kindly loaned us an Xperia S yesterday and we've been exploring the handset since. We're not going to bother doing an unboxing as there's already plenty of videos out there, however we thought we'd post our initial impressions. We were handed a black version that uses a matte plastic finish. Below we've written what has really stood out so far in testing and on the flip-side what issues we've faced.
We've also included the phone's welcome screenshots along with the five home screens when you first set up the phone. This usually gives you a good idea what Sony Mobile is trying to promote. It's too early to judge battery life and the camera performance, so we'll talk about those in a future post. Click through for our impressions, but remember these are only our preliminary views.

What we like
Display is absolutely gorgeous – For us the real stand out feature of the Xperia S is the 4.3-inch TFT LCD display. The display may not have the same levels of contrast found in an AMOLED display, but the colour and text reproduction is superb. We could actually read web page text without zooming in. The colours of photos and videos are vibrant and the Bravia Engine helps in this regard. There are only a few phones out there that better the iPhone 4's retina display and the Xperia S is one of them. It has a pixel density of 342 PPI versus 326 PPI for the iPhone 4/4S.
Smooth UI – We tried the Cosmic Flow wallpaper on some of our 2011 Xperia handsets and it was a bit laggy. There's no such problems on the Xperia S with most of the UI interactions being very smooth. We even tested some games like Reckless Getaway that played without a hiccup – obviously the fast processor is doing its job.
Storage – Our Xperia S has 25.8GB of available storage for media content (music/video) and larger games. Not quite the 32GB (or 29.8GB formatted) of space advertised, but just under 2GB of this is used for internal phone memory (we have currently used 355MB and have 1.6GB of space free) while the balance is used for the OS. This would make it larger than the 1.0-1.5GB of internal phone memory suggested by the Xperia S white paper. This c2GB of internal space should be enough for most people to download apps (remember that larger games will use the 25.8GB partition to download the bulk of their data).
Strong build quality – The Xperia S feels quite substantial in the hand, quite different from the Xperia arc. It has more presence in the hand that gave us a feeling that we were holding some serious tech in our hands. We've heard some reports of creaking back cover, but this is not something we've encountered. Everything feels firm in the hand, as it should be.
Matte plastic means no fingerprints – The Xperia S uses a matte plastic with anti-stain coating (not really relevant with the black model). The great thing though is that you don't need to worry about the phone being a fingerprint magnet (this doesn't help the display though). The soft plastic feels good in the hand and thankfully has some friction which means it shouldn't slip out of your hand.
Size is manageable – We were worried that the 4.3-inch display may mean the handset might be a tad too big to use as a daily phone. However, it's not too different to the Xperia arc, although the boxier design does mean it doesn't fit as easy in the hand. What we did like though was the fact that the placement of the capacitive buttons (above the transparent antenna strip) should make it easy enough for most people to operate the phone one-handed – something that couldn't be said if the back, home, settings buttons really were on the transparent strip.
Power button has good feedback – As there is no physical home button, you will need to use the power button to unlock your phone (none of the other hard keys such as volume and camera buttons will work). Thankfully the power button has good feedback (unlike the one on the Xperia arc), you'll have no problems unlocking your phone, although you'll need to use two hands to do it.
Issues so far
Capacitive buttons hit and miss – We are not the biggest fans of capacitive buttons. We've tried them in other phones and always have the same issues i.e. it seems hit and miss whether the command is registered or not. With the Xperia S you almost have to push the capacitive button to register the haptic feedback, rather than just gently place your finger over it. In terms of placement, initially your fingers do aim for the icons on the antenna strip, however it doesn't take long at all before you adjust to aim for the capacitive buttons, highlighted by three circles above the transparent strip.
micro-Sim – This point isn't really an issue per se, more of a one-off annoyance. We had to butcher our normal SIM card before we could truly test the phone. We could have waited for one to arrive from the mobile operator but there's plenty of guides on the net on the best ways to cut up your card to form a create a micro-Sim. Given how many phones are now moving to micro-SIM, most of you will probably have to go through this process at some point or another.
Not a fan of port flaps – This is more of a pet peeve. We're just not a fan of port flaps on a phone. We use our USB port constantly whether for charging or moving data and it's a pain to keep fiddling with the flap. Ultimately from our experience these flaps normally end up falling off too. We can understand why Sony Mobile included them, but we'd much rather just have easy access.
Low call volume? – This is not a definitive point, but we have noticed that in the few calls we've made over the last day that the call volume is not as loud as the 2011 Xperia range. We're not saying it's as low as the Xperia X10 which was awful in this regard, but from our initial testing, it could be louder. This may be down to specific reasons so we'll have to test further before declaring this an official 'issue' we have with the phone.
Not sold on the design – The Iconic Identity design will be used in all Xperia NXT handsets such as the Xperia S, P and U. Maybe it's just the black colour, but we're not completely sold on the design. Obviously coming from the Xperia arc is always going to be difficult. We recently went hands-on with the Xperia P and Xperia U (we'll post our thoughts on these in due course) and for some reason it seemed to suit the smaller handsets better.
Setting up the Xperia S
When you first switch on the Sony Xperia S, you will see the following setting-up wizard. It's broadly the same as the 2011 range, but thought we'd include it anyway.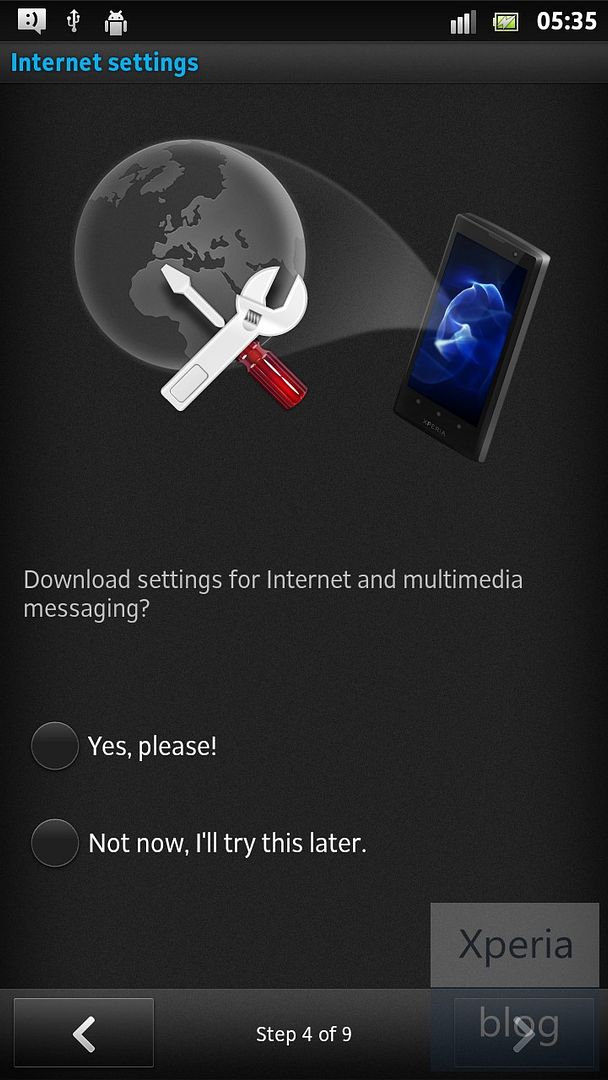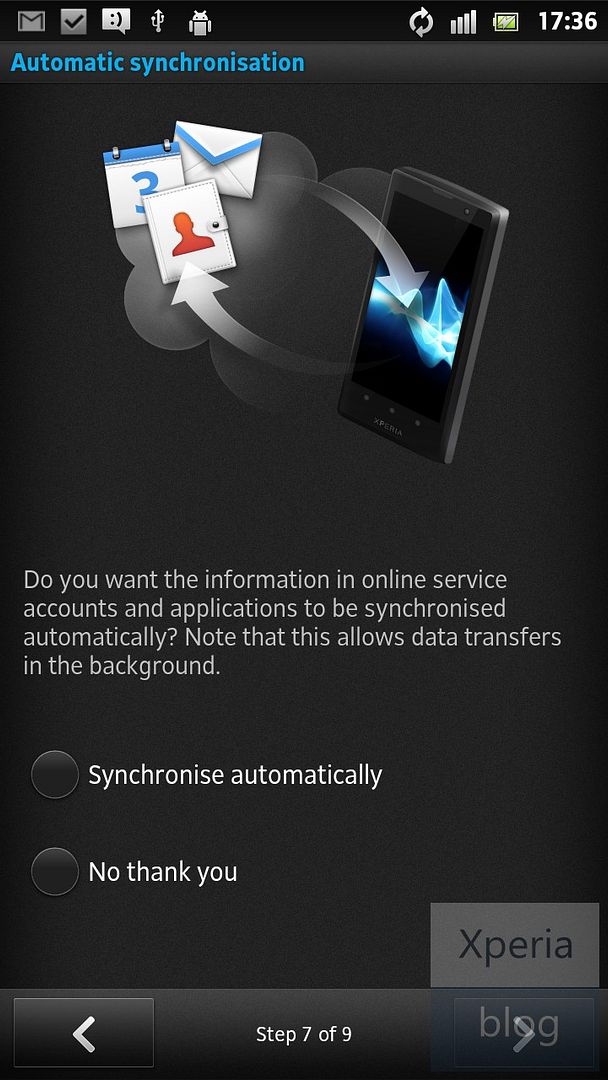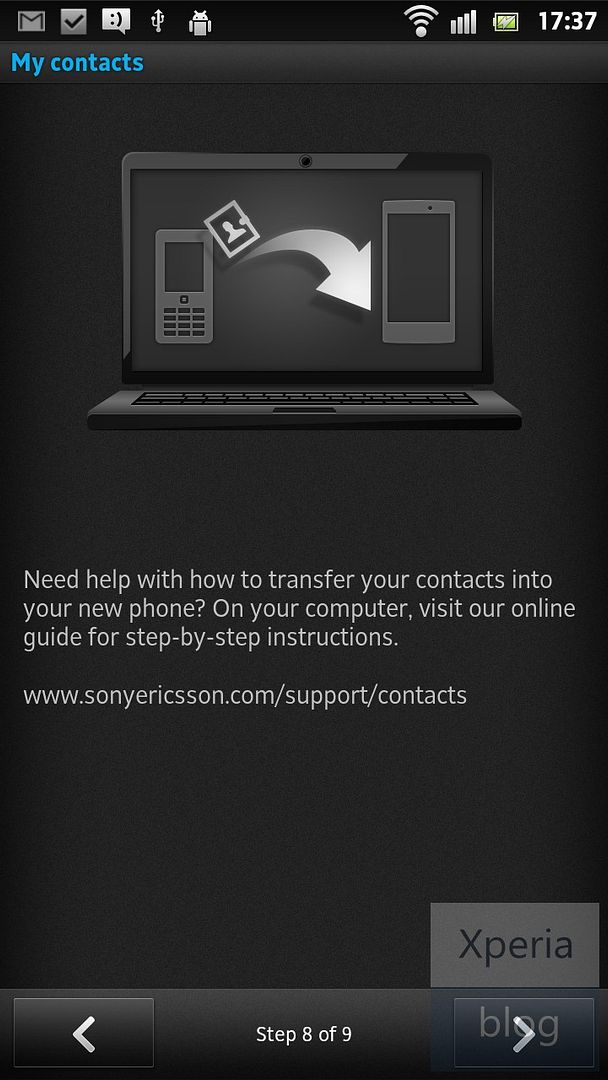 Homescreens of Xperia S
When you first switch on the Sony Xperia S, the following pictures show how Sony Mobile has set up the five home screens. As you can see there is a strong prominence of Sony properties in there including Music/Video Unlimited, TrackID, Timescape and the PlayStation app.