The Sony Ericsson Xperia arc is one of the sexiest smartphone designs currently on the market. It has a large screen, slender body and beautiful curves. It is only fitting that such a desirable phone should be housed in an equally desirable case. Trying to find one though can be a tricky process. However one such company, Issentiel, specialises in luxury mobile cases and sent us a couple of Xperia arc cases to review.
The company, which is based in Montpellier in the South of France, sees its products as "Haute Couture for mobiles". Having a quick glance at the Issentiel website and you can see why, your eyes are treated to some beautiful and well-fitted designs for some of the key mobile devices out there including iPhones, iPads and Galaxy S2's amongst others. All products are hand-made in Europe and come with a 1 year warranty, the company also offers worldwide delivery too with postage starting from €4.99. Read on for our thoughts.

Issentiel sent us two cases, one a traditional pouch with pull-strap and the other a flip case. Both are hand made from genuine leather and the packaging reflects this. Each case comes inside a cloth pull-string bag with the Issentiel logo.
Xperia arc slim leather case "Classic Collection"
The first case up for review is from Issentiel's "Classic Collection". These cases are effectively slim leather pouches with a pull strap to easily remove the phone. This particular case retails for €29.90 plus delivery, which is not cheap, but you get what you pay for.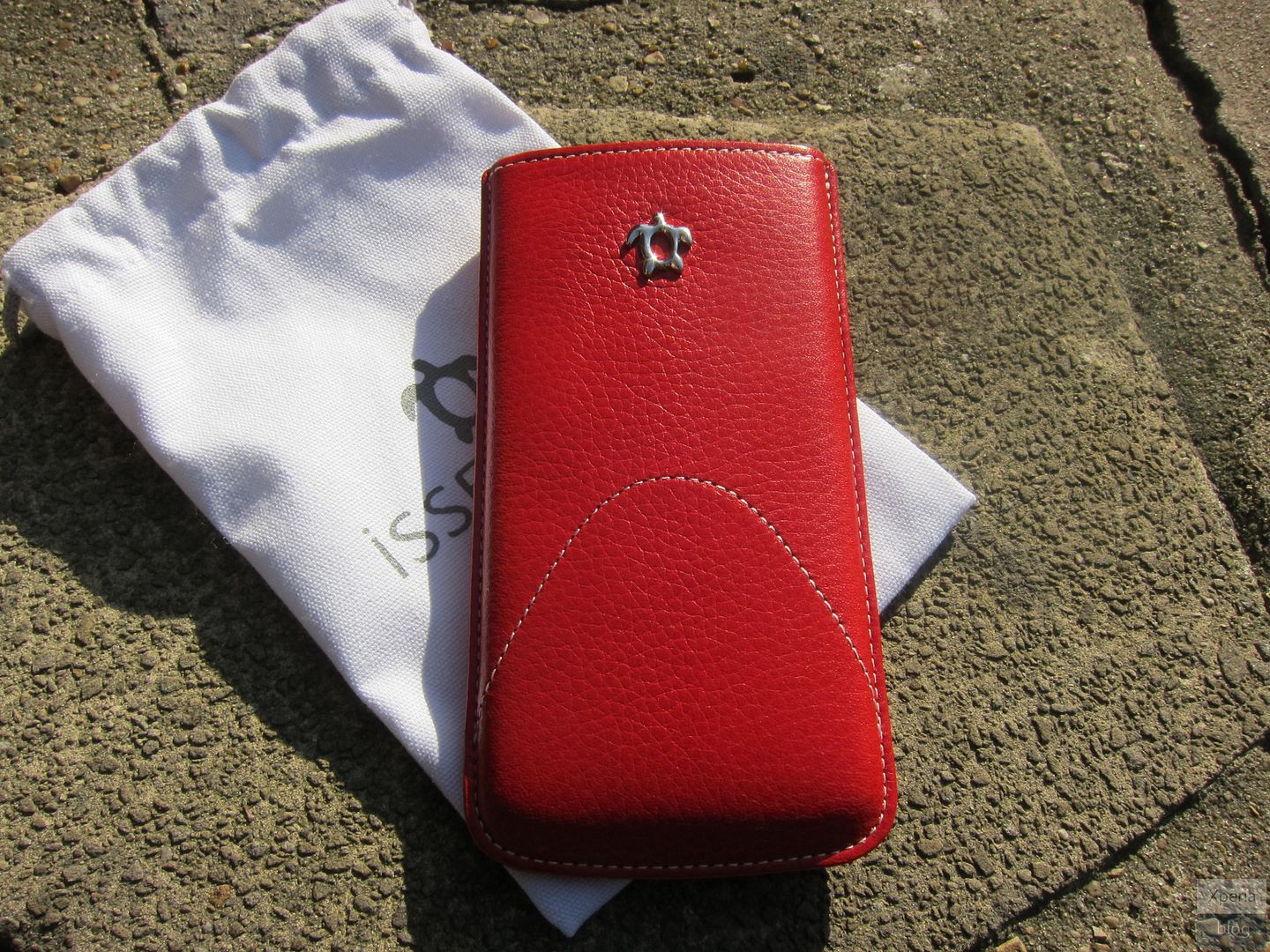 Issentiel offers eight different variations to choose from in this particular range. This includes two different types of leather, smooth Nappa or grained Floater. We went for the striking "Flo Red" colour and as you can tell from the pictures it certainly looks vibrant.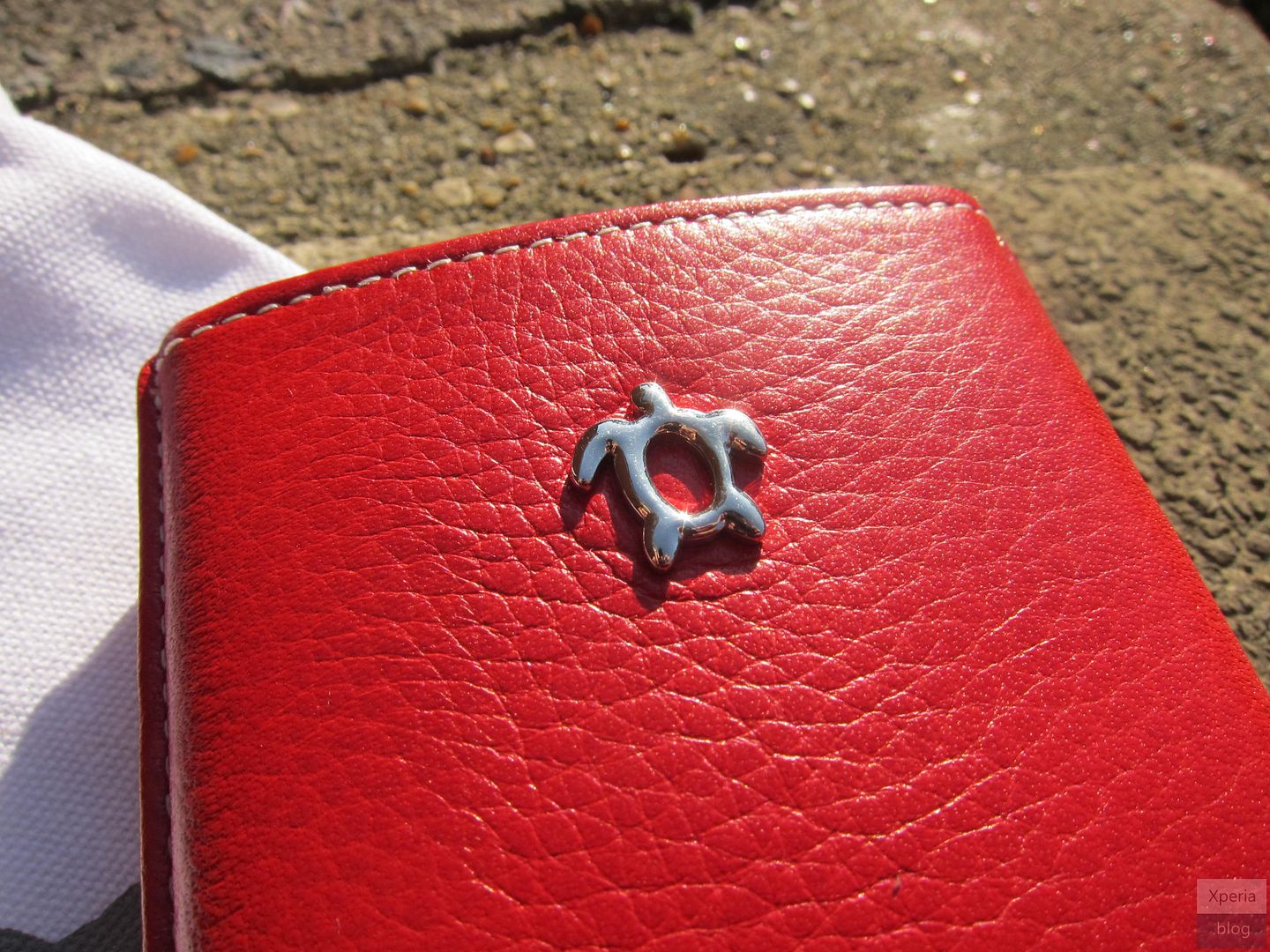 Issentiel has a classy logo in the form of a tortoise/turtle. It is only a small logo that sits towards the top of the case, so it never feels overbearing. We do wonder how well it is stuck on though and whether it may be prone to falling off over time.
The Issentiel logo is embossed on the back side on the bottom of the case. Once again it is nothing too large to take away from the fine leather of the case.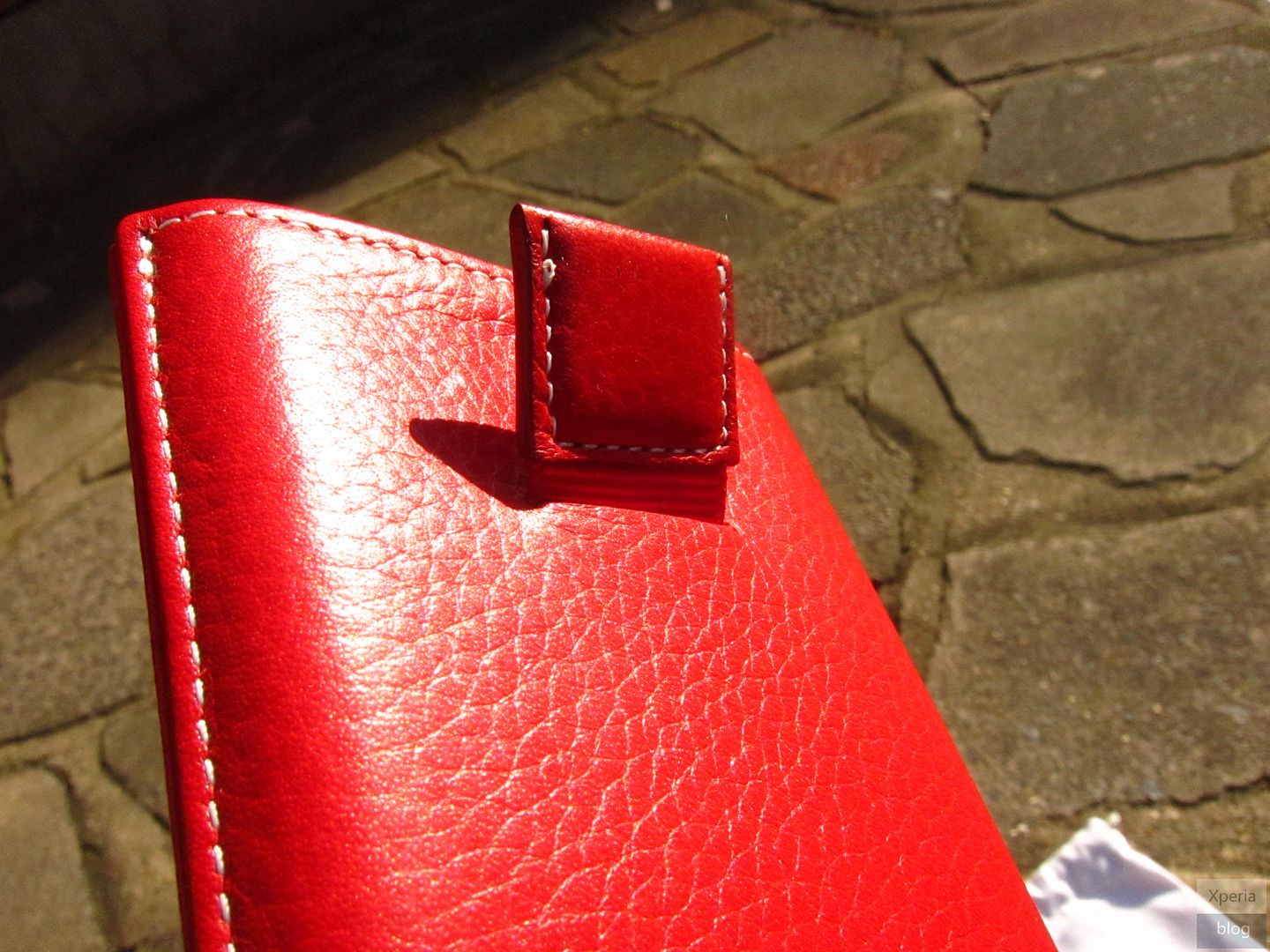 The tip of the pull strap on the back of the case is also wrapped in leather. This means that it should be resistant to wear and tear over time. It feels secure with strong stitching.
As you can tell from the pictures, the Xperia arc fits snugly once inside. In fact it is very difficult to remove without the aid of the pull-strap, so you don't need to worry about falling out on its own.
The white Xperia arc S and Flo Red case combo looks particularly striking together.
The pull strap moves easily enough to take the phone out. Fully extended the pull-strap exposes just under half of the Xperia arc's body. Enough to take it out easily but not too much to make the phone fall out on its own.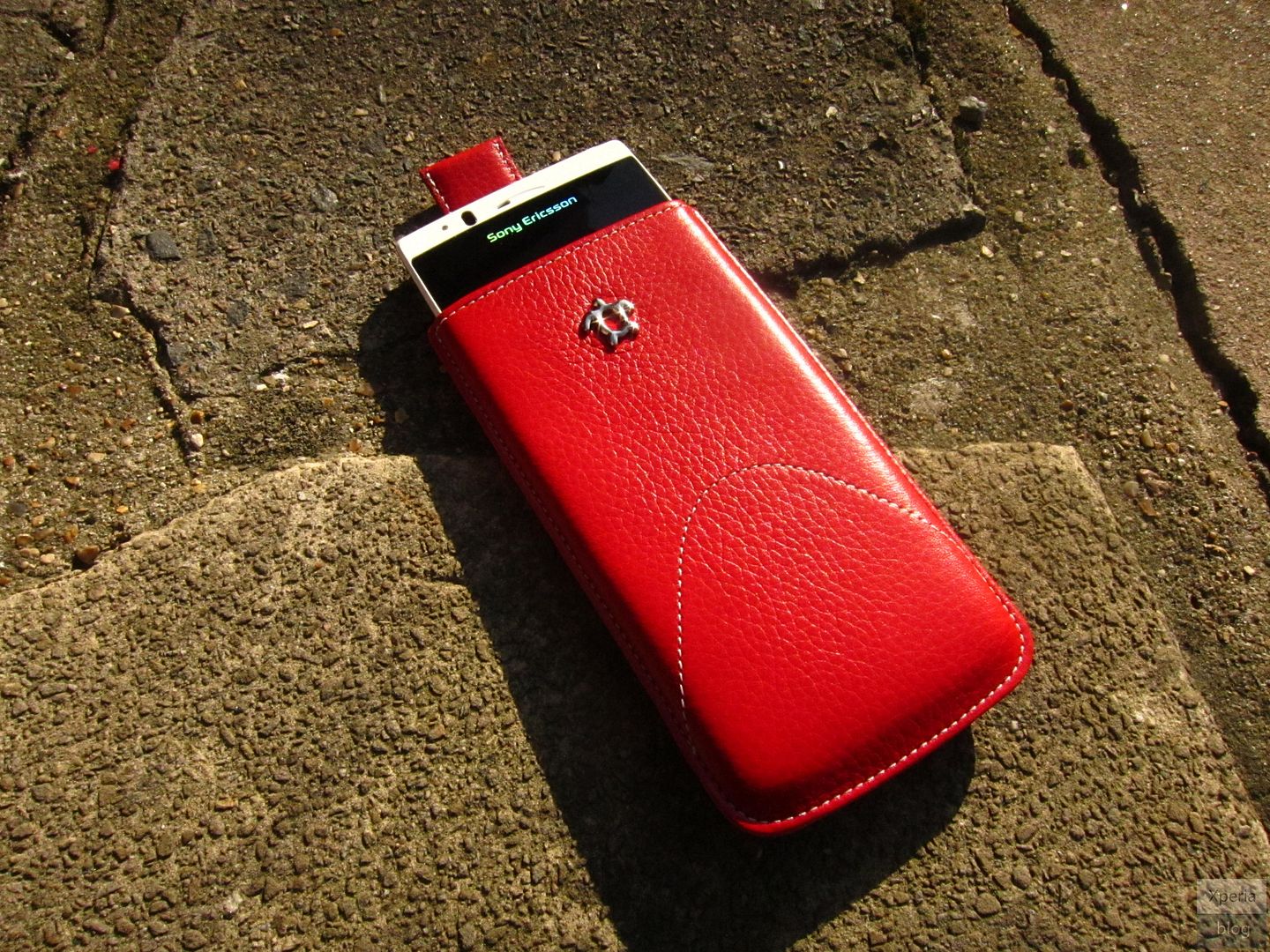 The case adds minimal girth to the Xperia arc and weight. The whole case weighs just 35g and it's certainly not anything you'll feel on day-to-day use. Whilst this isn't the type of case to offer all round protection to your phone, we think it would still do a good job. Only the top of the phone is exposed and may be prone to scratches if dropped.
The case feels well built with secure stitching in white thread adding to the design. We very much like this case and it would be ideal for those that want to preserve the good looks of the handset.
Xperia arc leather flip case "Tradition Ultra Slim"
The second case we are looking at has a flip-case form factor. As before this case is hand made using genuine leather. This particular case is more expensive than the simple pouch above and hence is more expensive at €39.90 plus delivery.
There are seven variations to choose from in this range with two black colours – one 'Grained' and the other 'Nappa'. We had a Grained Black case to test that looks very elegant with a Midnight Blue Xperia arc.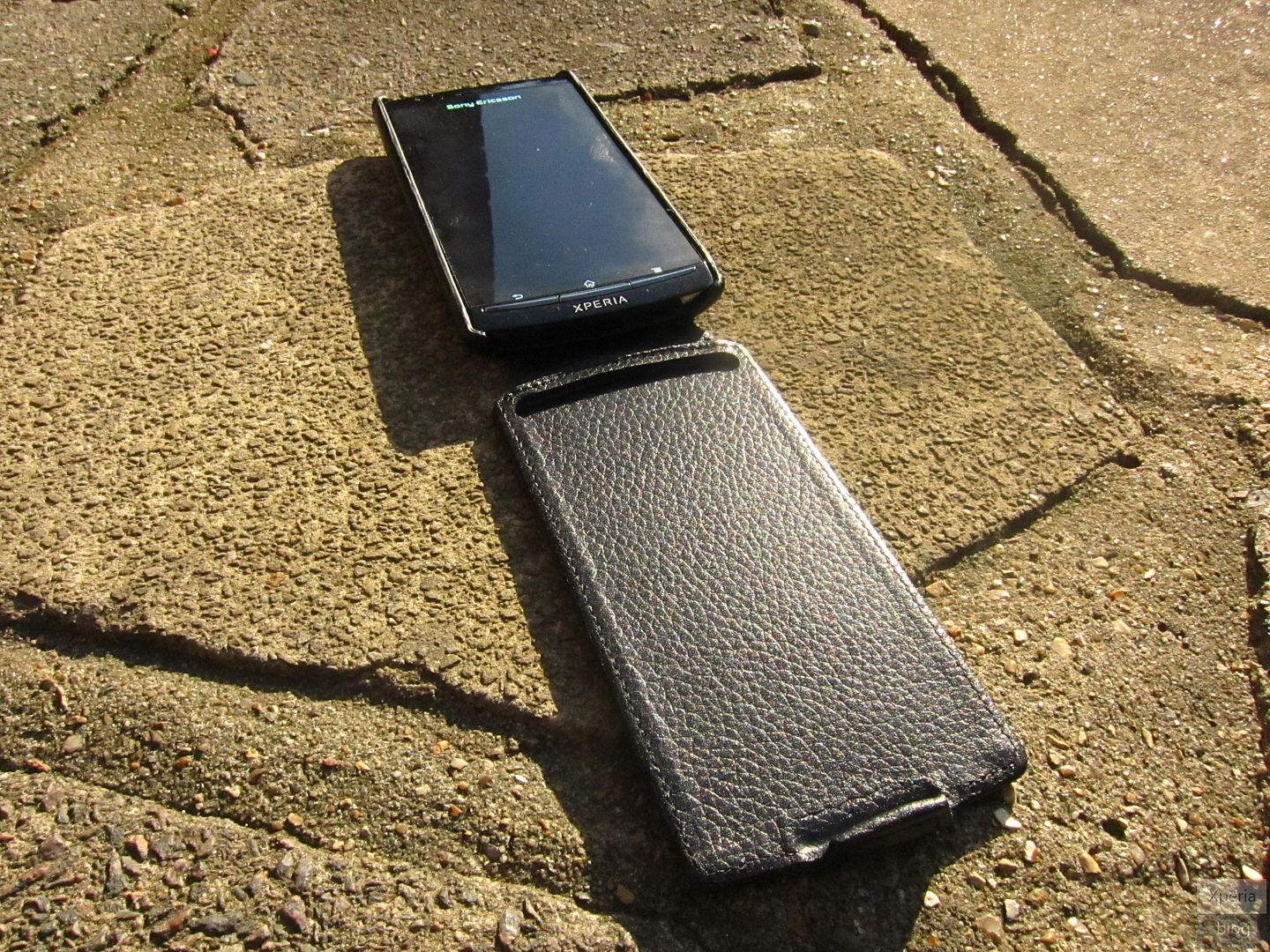 As before, the case uses genuine leather with a high quality finish which has a nice touch to the hand.
The case has a small embossed tortoise logo on the front corner and an embossed 'Issentiel' logo on the back cover. Unlike the previous case, this flip case is built around a rigid shell. It also has protective rubber coating under the device to provide enhanced protection.
All of the cut-outs were where we expected them to be, without protruding the camera lens, flash or microphone.
The hole for the headphone socket sat slightly at the edge, but we still had no problems plugging earphones in and out.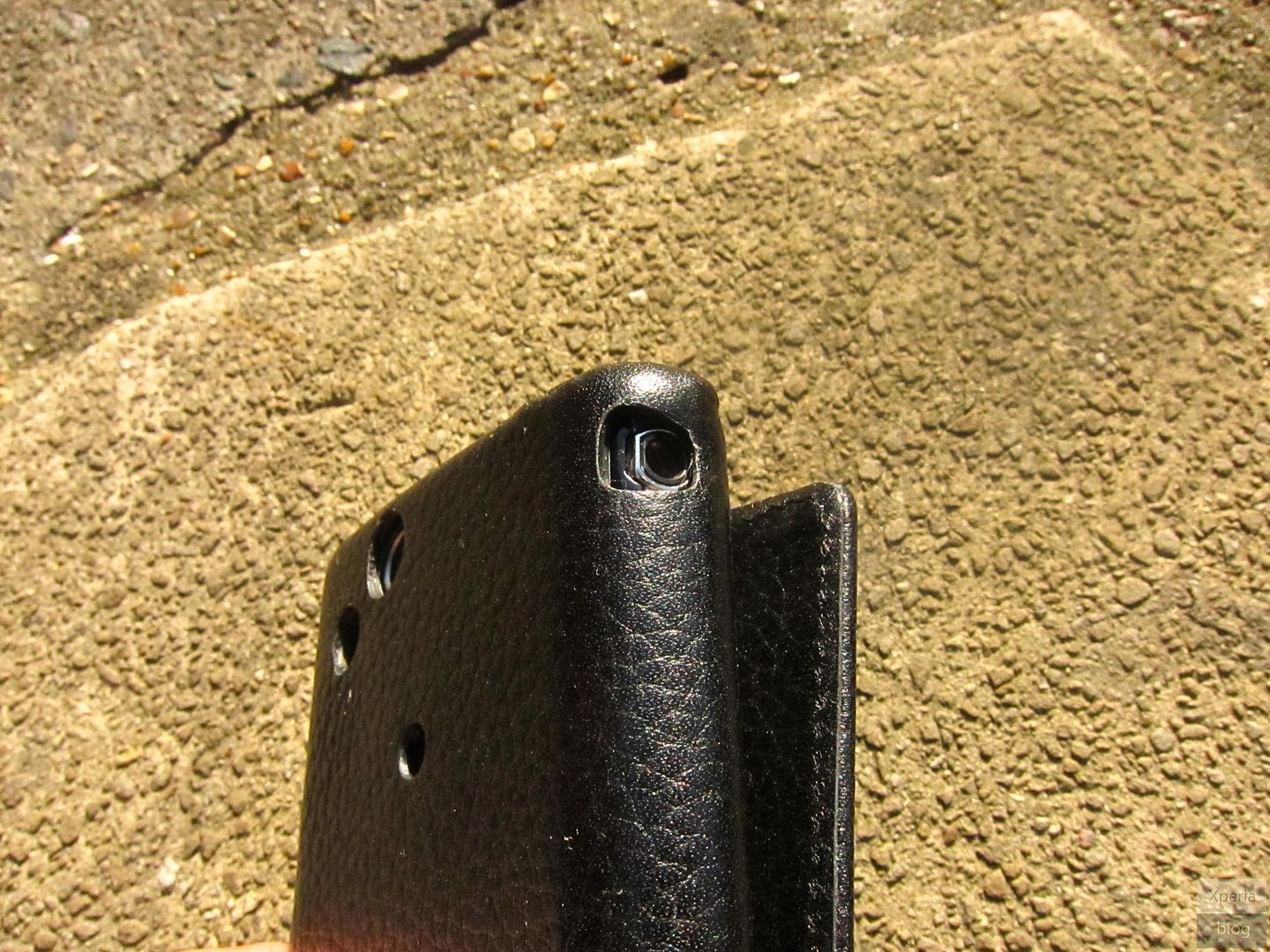 On the other side of the phone, we had easy access to the micro USB port and volume controls.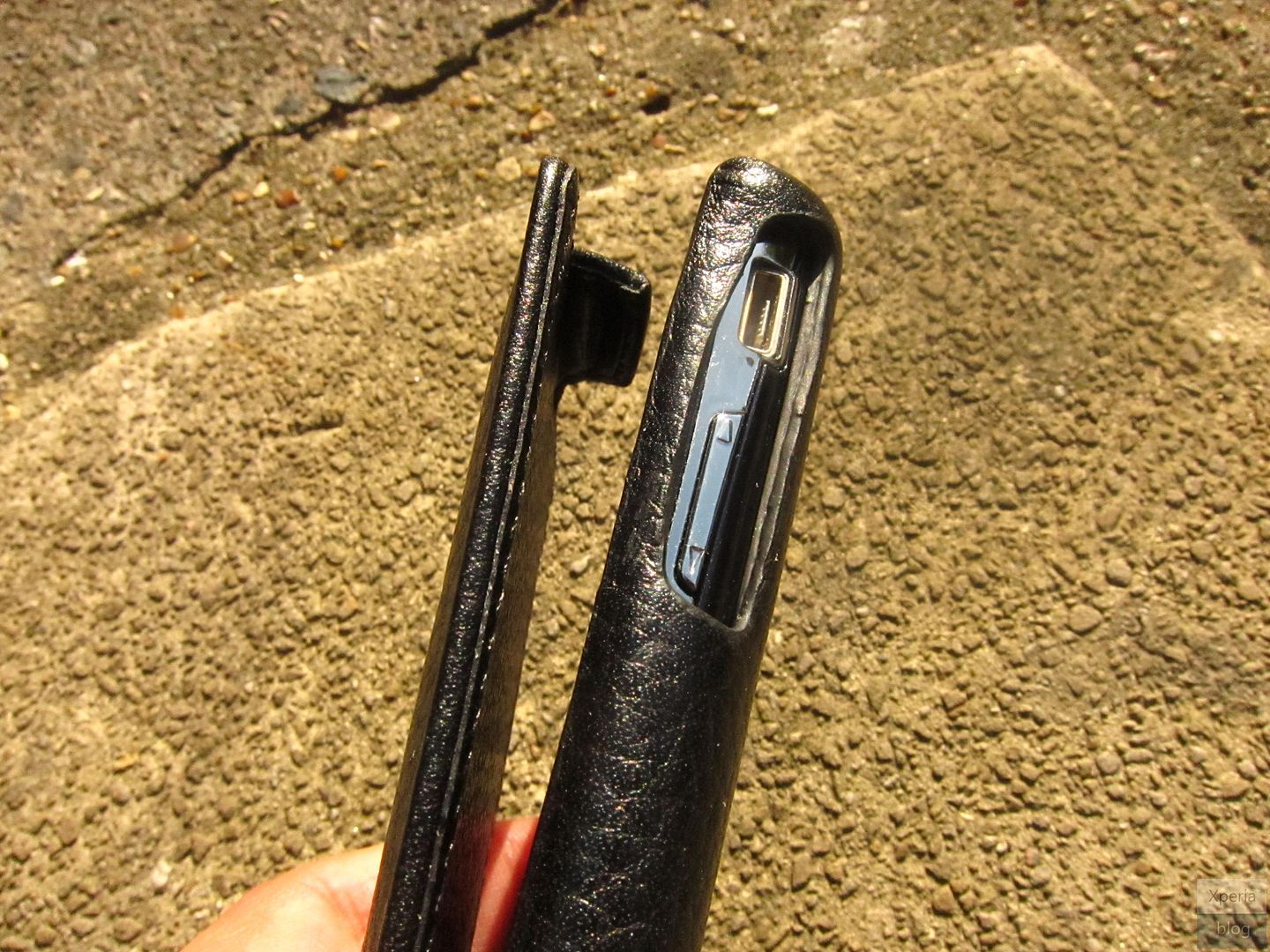 There is also an ample sized hole for the camera shutter button.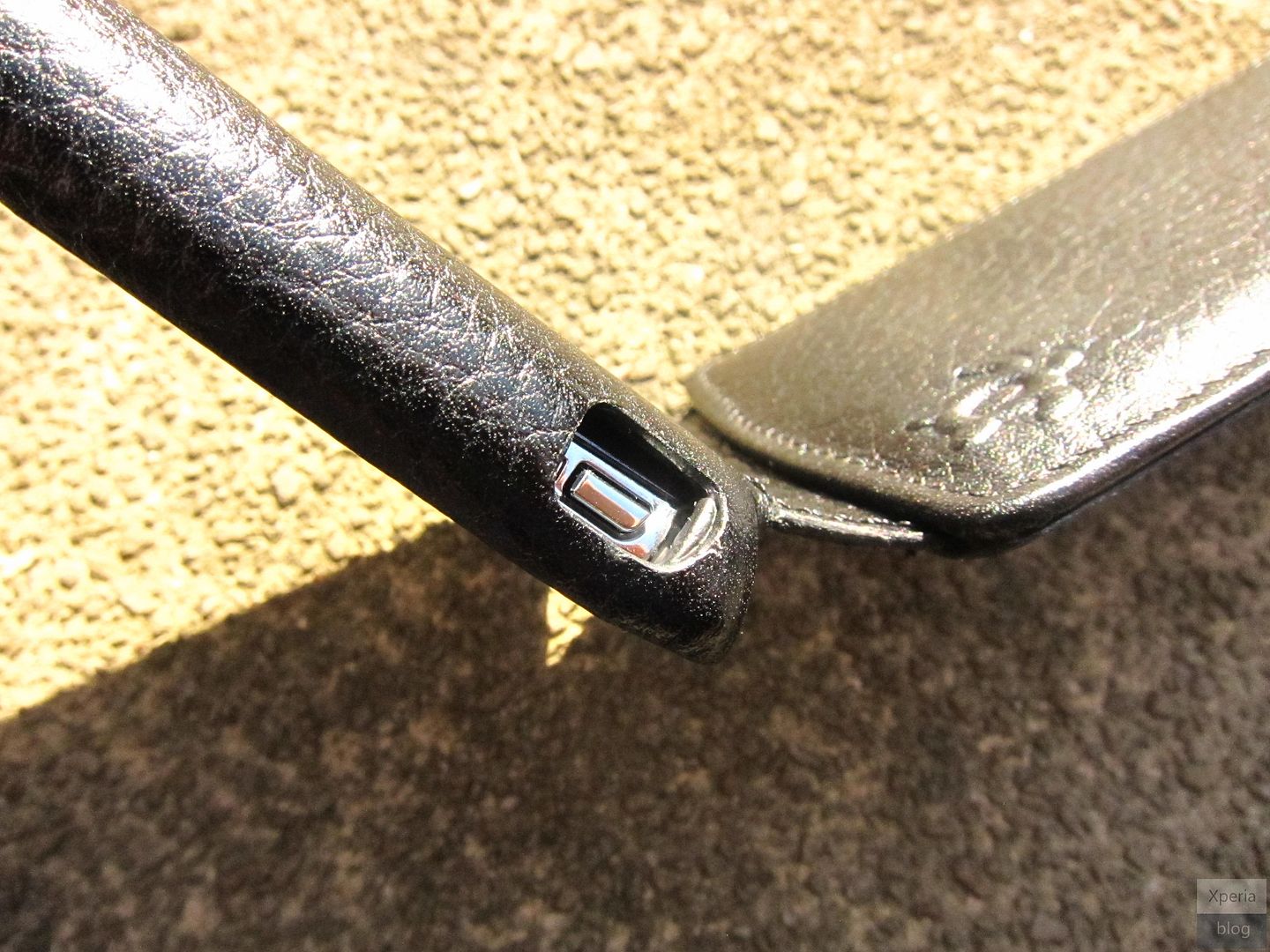 And don't worry about the speaker being muffled by the case. The cut-out hole is big enough to cause no interference in speaker audio. As all of these pictures show, the guys over at Issentiel have done a good job making sure you have access to every part of your phone.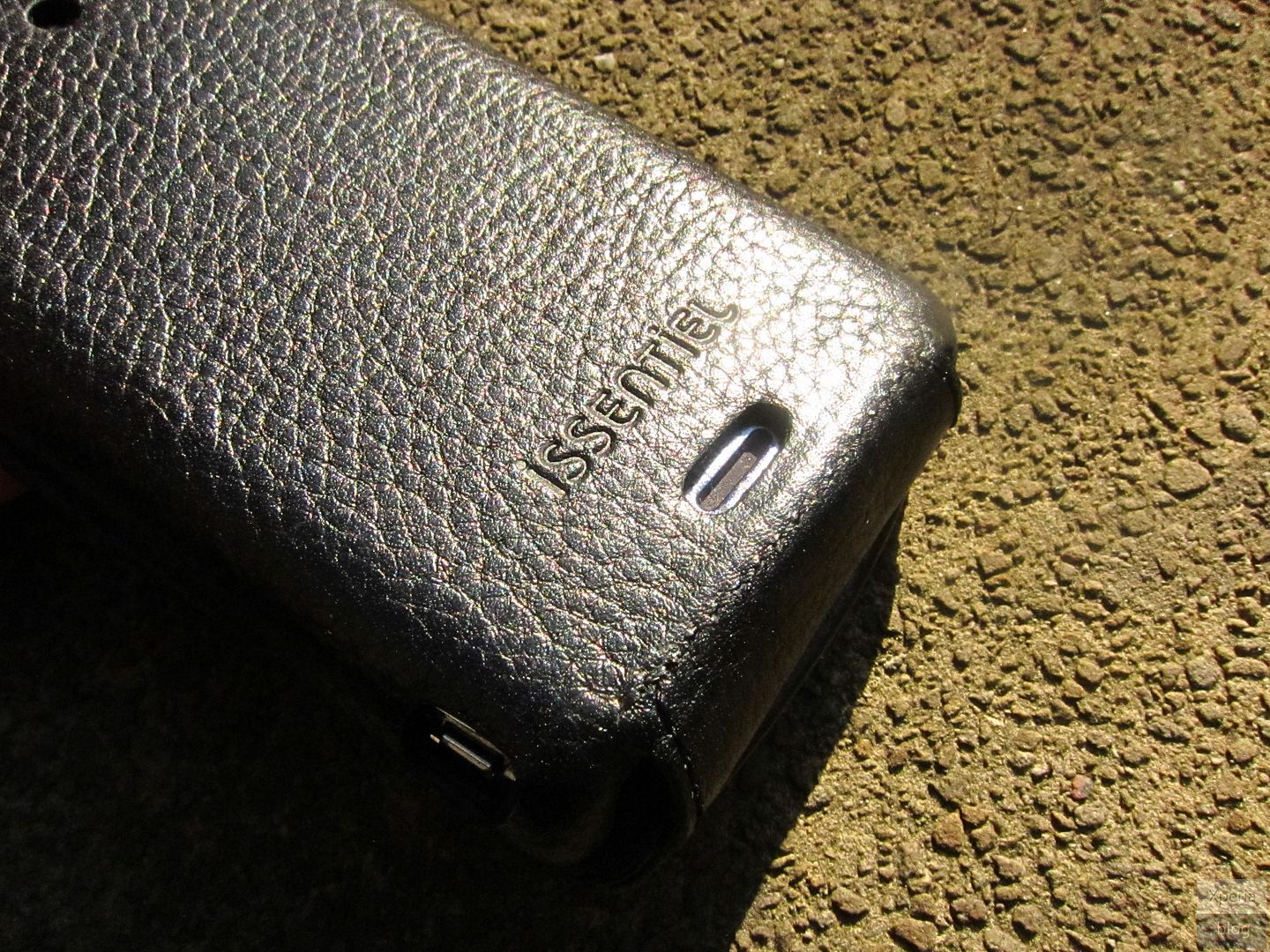 Strangely for a flip-case, this case uses no fastening (either buttons or magnets) to hold it together. Instead the top of the case clasps the phone. It's the first time we've seen a case like this and it felt a bit disconcerting not to have a solid fastening in place. However, despite our reservations, the case remained shut even when thrown around in a bag.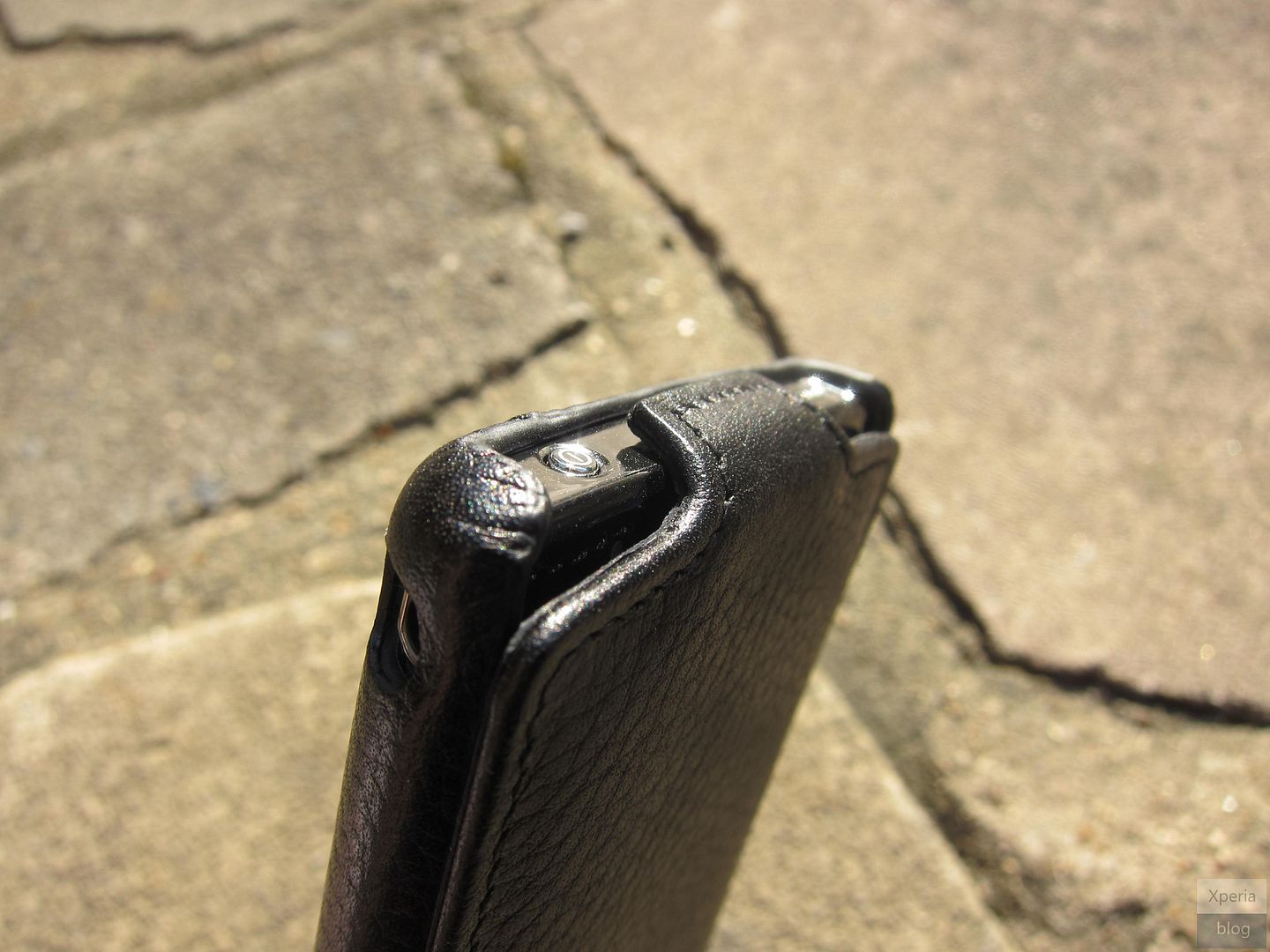 The Xperia arc fits perfectly in this case. It feels well built and we expect it should last a long time. It is also lightweight weighing just 35 grams.
SUMMARY
Let's get this out of the way first, these cases are not cheap. You can buy very cheap cases for most phones on eBay or Amazon Marketplace, however whilst they may offer protection they often don't look the part. The Issentiel cases remind us of the ones made by Noreve, who also produce some very nice luxury leather cases.
They may be pricey but they offer good protection for your phone (especially the Issentiel flip case) and are also some of the most elegant cases we have come across for the Xperia arc. We imagine these are the types of cases that the Xperia arc would long for if it could make the choice itself on what it is wrapped in. It marries a beautiful case with a beautiful phone. If you can afford it we'd definitely recommend either Issentiel case depending on your needs.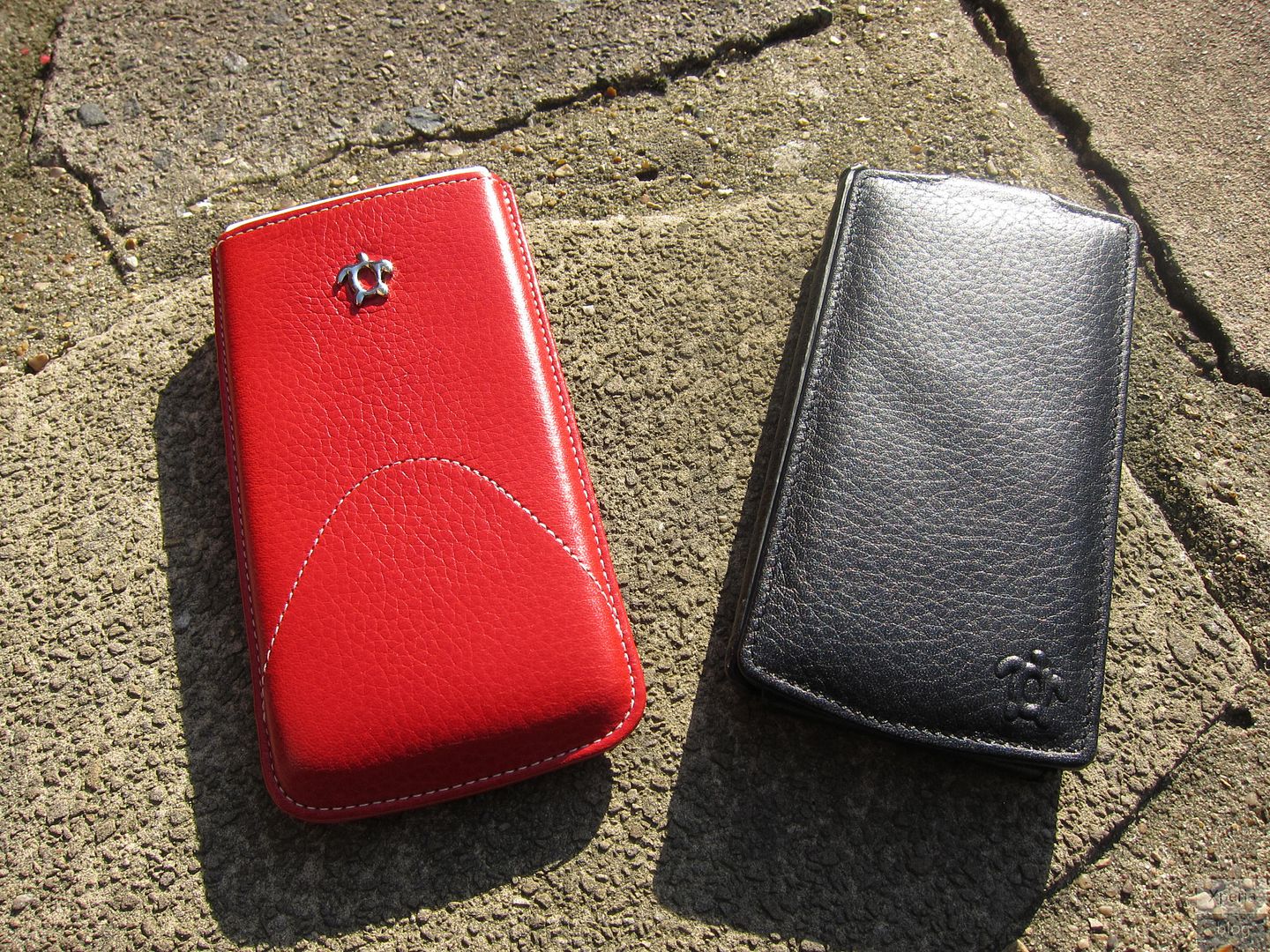 Many thanks to Issentiel for sending the cases for us to review!