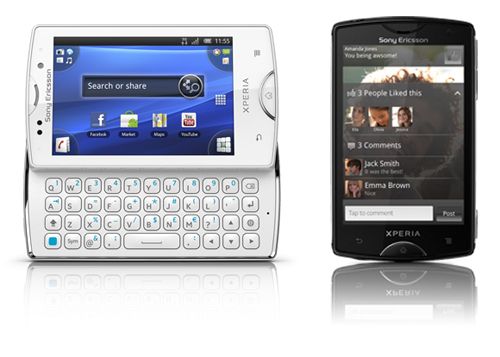 Sony Ericsson has officially unveiled its next generation mini line-up, simply called the Xperia mini and Xperia mini pro. If you've been following the blog, the design shouldn't come as a surprise given the number of leaks we've seen. The handsets follow on from the X10 mini and X10 mini pro, although have a slightly larger 3-inch (320 x 480) display size (as opposed to 2.55-inches with the older models).
The new Xperia mini's are the world's smallest 720p HD video recording smartphone (including a 5MP camera) and will run Android 2.3 (Gingerbread) when they launch in select markets in Q3. Both handsets will be powered by an unspecified 1GHz Snapdragon processor and a 1200mAh battery.
The four-corner UI has been improved to allow 16 apps to be displayed in the home screen. The handset will also come with a new social feature announced for the Xperia range called 'Facebook inside Xperia'. This offers deep integration throughout the phone, making Facebook accessible from most used areas of the phone such as the picture gallery, music player, phonebook and calendar. We'll have a full gallery and spec list for each phone in the sections at the top of the blog shortly. In the meantime, check out some videos below.
httpvh://www.youtube.com/watch?v=ShtWcsof3Rk

httpvh://www.youtube.com/watch?v=AS6XOoTobVw