The Sony Xperia U sits at the lower end of the Xperia NXT range. It carries the same Iconic Identity design as the Xperia S and Xperia P, but is lower specced than its big brothers. However, it has one head-turning feature not found on the more expensive models – an illuminating transparent bar that changes colour according to what is being displayed on screen.
We recently went hands-on with the handset and liked what we saw. A lot of people that visit this site may not be interested in the Xperia U given the lower specs, but Sony is pricing this handset quite competitively. We think the colour-changing notification bar will be a great talking point with consumers and Sony is likely to focus on this feature when marketing the handset. Click through for our first impressions of the Xperia U.

Thoughts on the Xperia U
Illuminating notification bar – The headline feature of the Xperia U is the colour changing transparent bar. This transparent bar is the same found in the Xperia S and Xperia P, but in the Xperia U it actually changes colour depending on what content is being shown on screen whether that be a photo, music or web page. Think of Philips Ambilight televisions if you're trying to conceptualise what happens. It works very well in practice changing colour almost immediately to what is being displayed on screen. You may think this might be distracting, but it didn't annoy us, although our play test was only brief. It does not work when you play a video so it shouldn't distract from any video content. Overall, we really liked the effect and we've not seen anything like it in any other phone. Seeing this first hand though made us wish it was a standard feature on the Xperia S and Xperia P handsets too.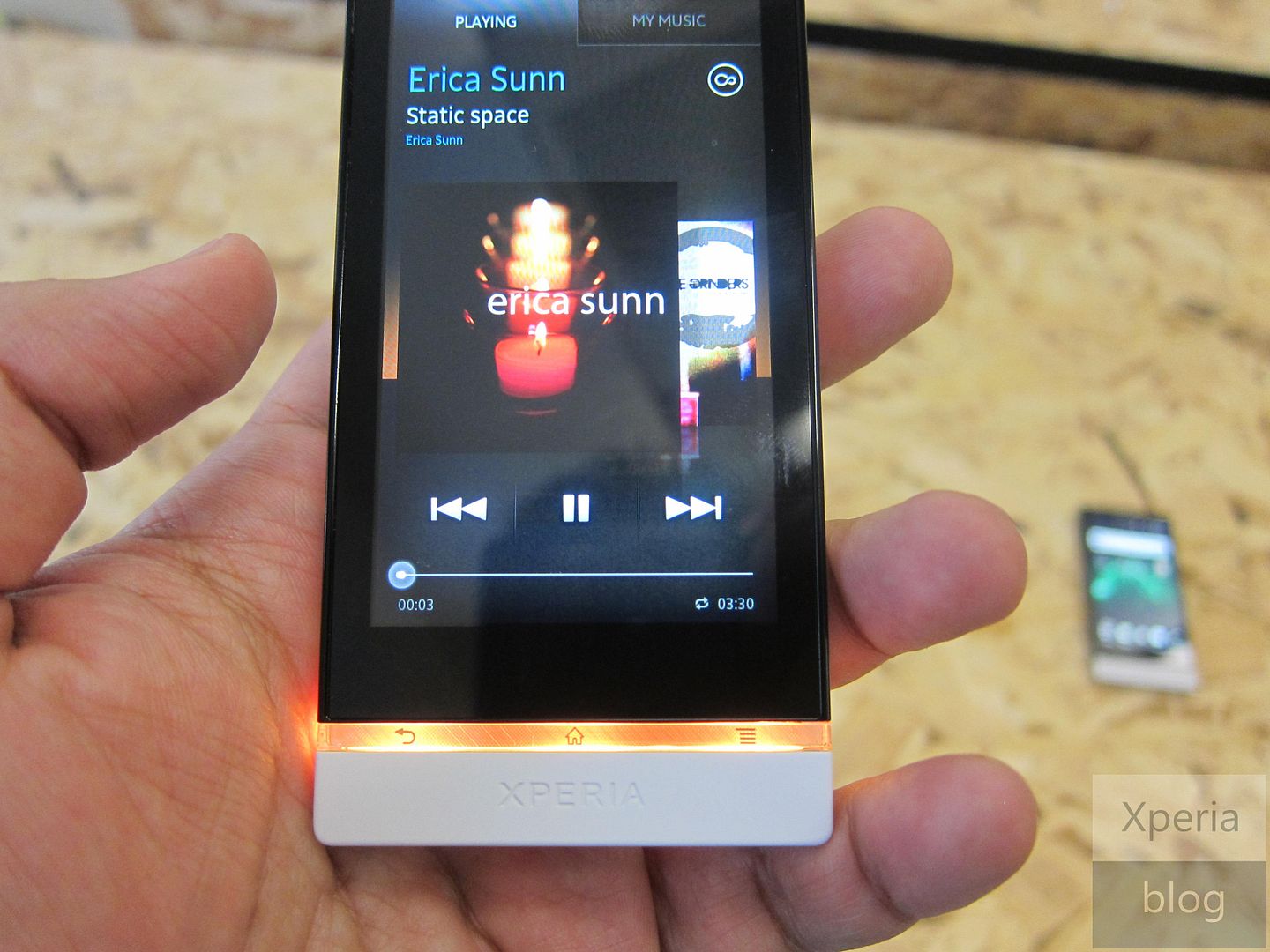 Stylish design with interchangeable caps – The Iconic Identity design really is very different to anything else out there. Kudos to Sony Mobile for creating designs that stand out from the me-too Android crowd. We like the implementation on the Xperia U, you don't get the nice metallic feel of the Xperia P, but the plastic seems perfectly tactile. With the Xperia U you can change the bottom 'caps' of the phone for ones of different colours (this isn't possible with the Xperia S and Xperia P). These interchangeable caps add to the illuminating notification bar and we can see this phone appealing to the fashionistas out there. The white Xperia U will come with white and yellow caps, whilst the black model will come with black and pink caps.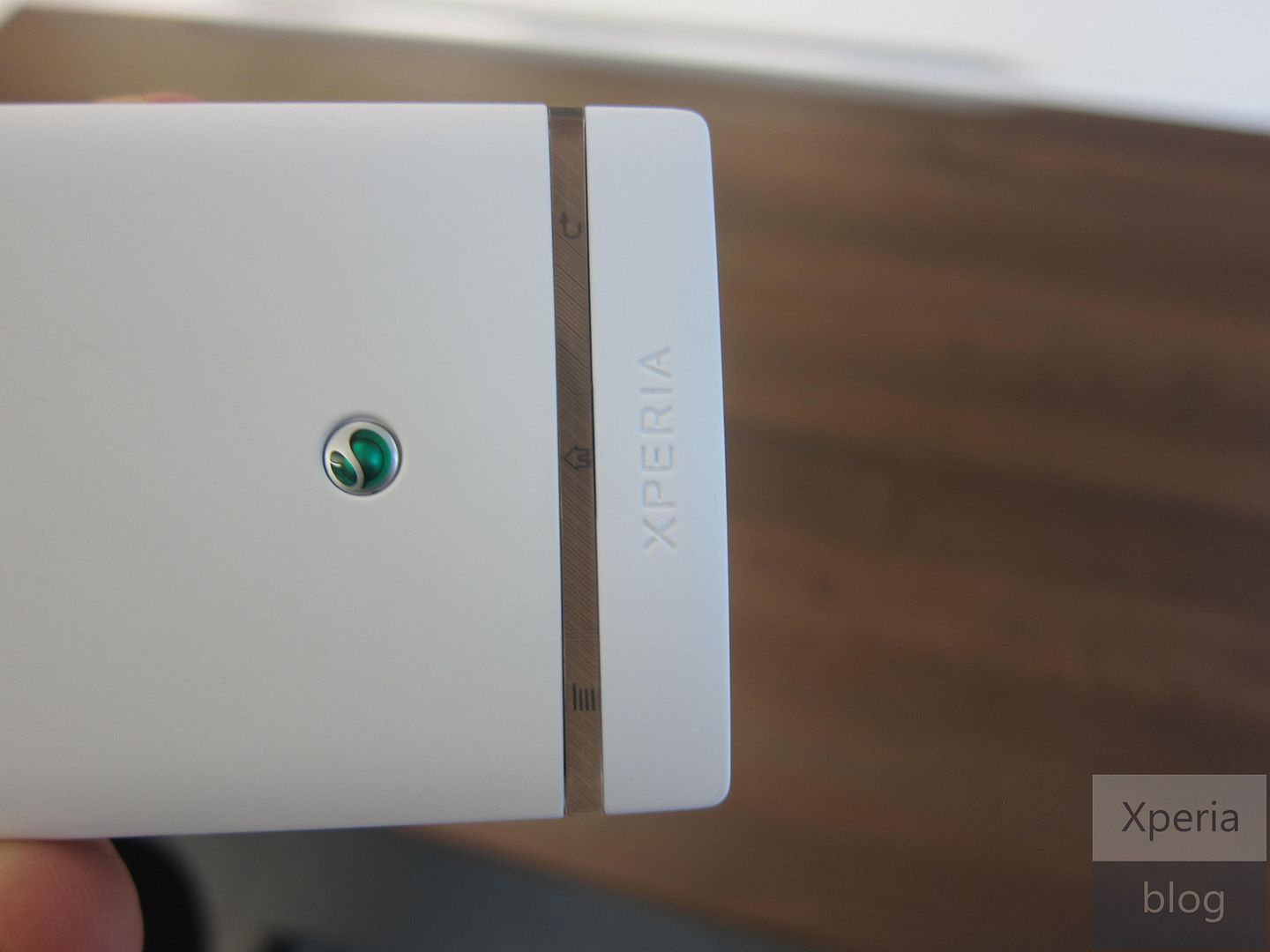 Speedy handset – The Xperia U carries the same 1GHz dual-core ST-Ericsson NovaThor U8500 processor found in the Xperia P. It is also running at a lower resolution (480 x 854 versus 540 x 960 on the Xperia P), which means it is not having to work as hard as the Xperia P. The result is a very smooth performance in terms of UI. We noticed no lag on our testing.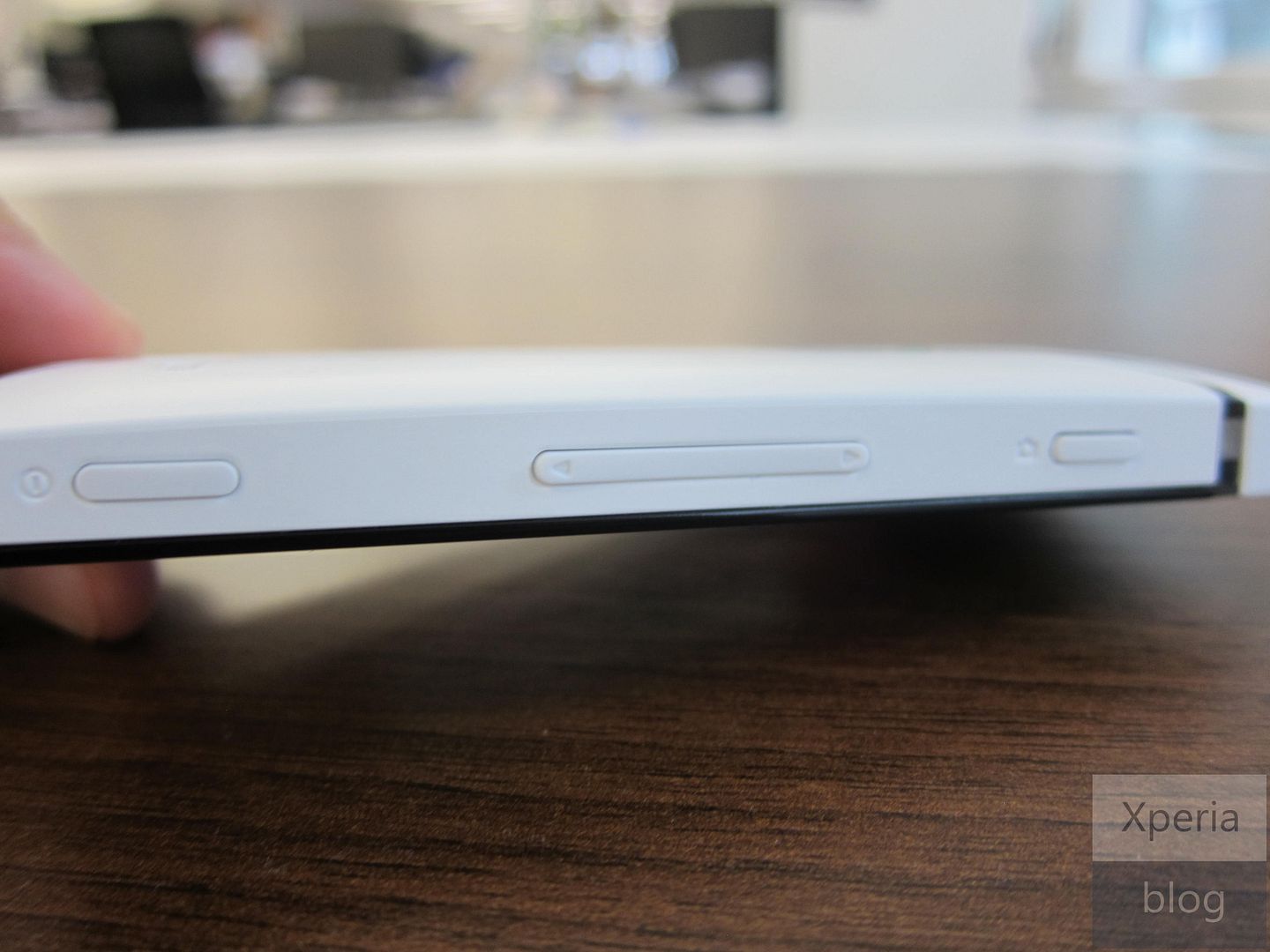 Average camera performance – The Sony Xperia U has a 5MP camera (no Exmor R camera sensor here) that is capable of 720p video recording. Nothing to shout home about, however it does carry the Fast Capture feature found in the Xperia S and Xperia P. This means that holding the camera shutter button will take a picture from standby in around two seconds.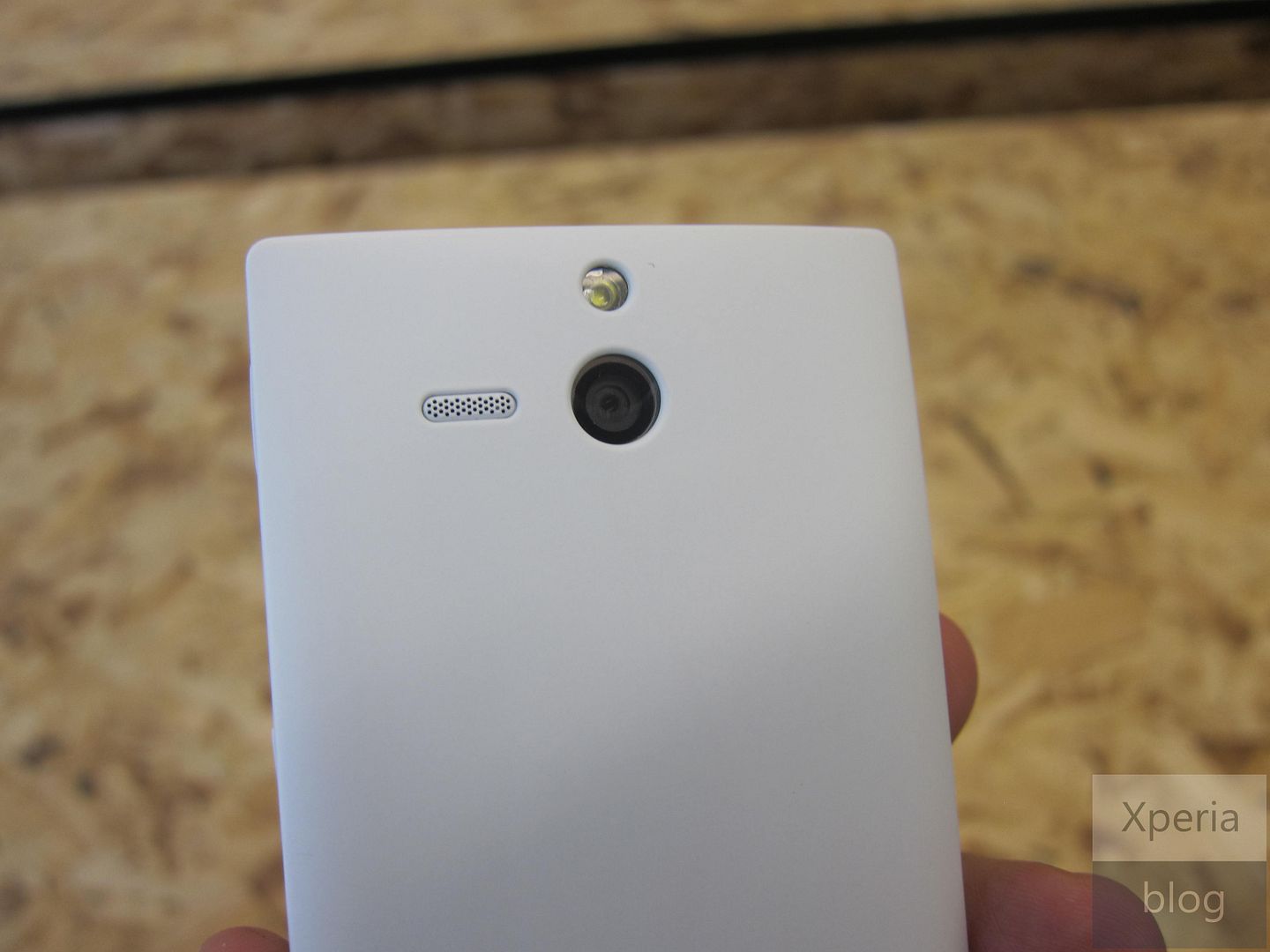 Limited storage with no expansion – The Sony Xperia U only has 8GB of in-built flash storage and no micro-SD memory card slot. Only 6GB of this is user accessible with 2GB of this allocated to phone memory for apps, data and games and the balance for media. It is quite clear that this is not the phone for those of you with large music collections or those who like to watch a lot of video content. Sony never intended this to be a media phone anyway and the lack of HDMI port reinforces this point. The 2GB partition for apps/data however, means that it should have more than enough space if you just use your phone to download apps.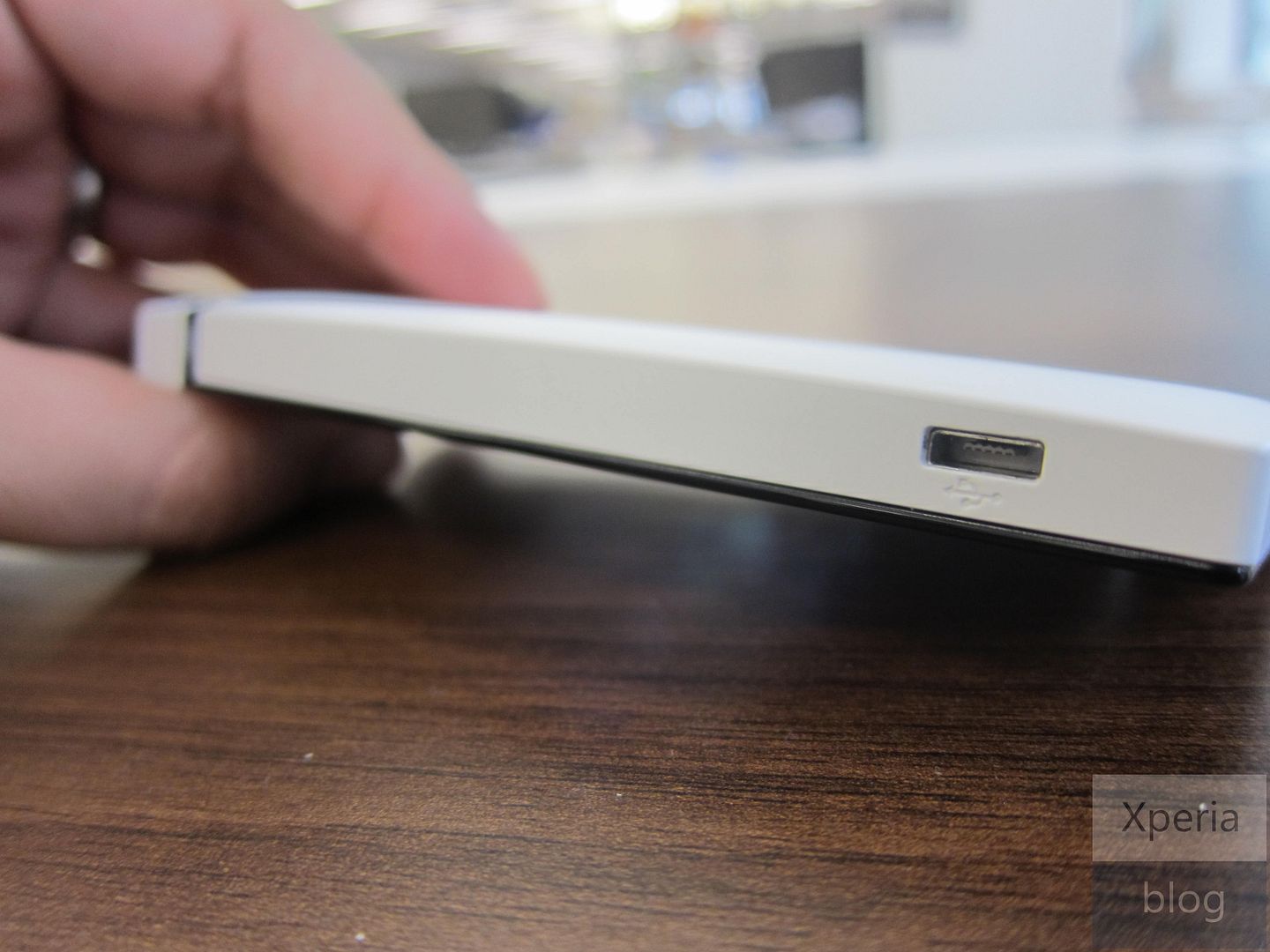 Xperia U uses a normal SIM and has a removable battery – On the plus side, the Xperia U will use a normal SIM card (unlike the micro-SIM needed in the Xperia S and Xperia P). Also, the handset will use a removable 1320mAh battery – once again no embedded battery as found in the other Xperia NXT models.
Overall initial impressions – Sony said that the Xperia U is designed to be a phone for the first time smartphone user. In that regard, Sony has succeeded in our view. The phone is certainly not boring with its funky design and illuminating bar, we can imagine it being a big talking point and is sure to grab the attention of passers-by. Yes, in terms of specifications it doesn't carry a lot of features but then at the very competitive price point Sony is aiming at it doesn't really need to.