We have previously reported on a number of users being affected by hairline cracks in the chassis of the Sony (Ericsson) Xperia arc. The crack would normally manifest itself on the plastic near the light sensor at the top of the handset. Judging from our initial poll almost eight months ago, over 60% of Xperia arc owners had a crack of some sort (close to 1,700 voted). The Xperia arc S also seems to be affected although to a much lower extent, 37% said that their handset had a crack from around 650 who voted.
Our resident Xperia arc handset was also affected, which we wrote about in that initial post back in July 2011. Given that the warranty was fast coming to an end we thought we'd find out how Sony Mobile was treating this Xperia arc issue. We wondered whether Sony Mobile would repair the handset under warranty or whether this fault was treated as cosmetic damage. Read on for our experiences in getting this fixed.

A call to Sony Mobile support
The first step was making a call to Sony Mobile UK support. We called 08705 237 237 which charges 10p per minute. A full list of global Sony Mobile phone contacts is available here. Our call was dealt with promptly and professionally by somebody based in the UK rather than an offshore call centre. We outlined our problem to the support person and they outlined the steps needed to get the handset repaired. At this point they couldn't confirm whether the phone would be fixed under warranty, an engineer needed to look at the phone in person to determine this. He did say that if the repair was not under warranty, Sony would contact us to tell us how much the repair would cost. If we didn't want Sony to do the work, then we would have been charged a £10 administration fee before the handset was returned.
Emails outline dispatch process
Following our call we were sent two emails telling us exactly what we needed to do. It said what items we needed to include, the repair reference number and postage instructions. We were happy to see that postage was free and that a proof of postage from the post office would ensure that the phone was covered if it was lost in the post. We removed the memory card, sim card, battery and back cover from the handset and sent it off to Sony Mobile on 5 March 2012.
The waiting game
Now it was a case of waiting to hear back from Sony. To our surprise we had a package waiting for us on 14 March 2012, seven working days after dispatch. Quite an impressive turnaround time, we were expecting it to take longer. The item was sent by recorded delivery.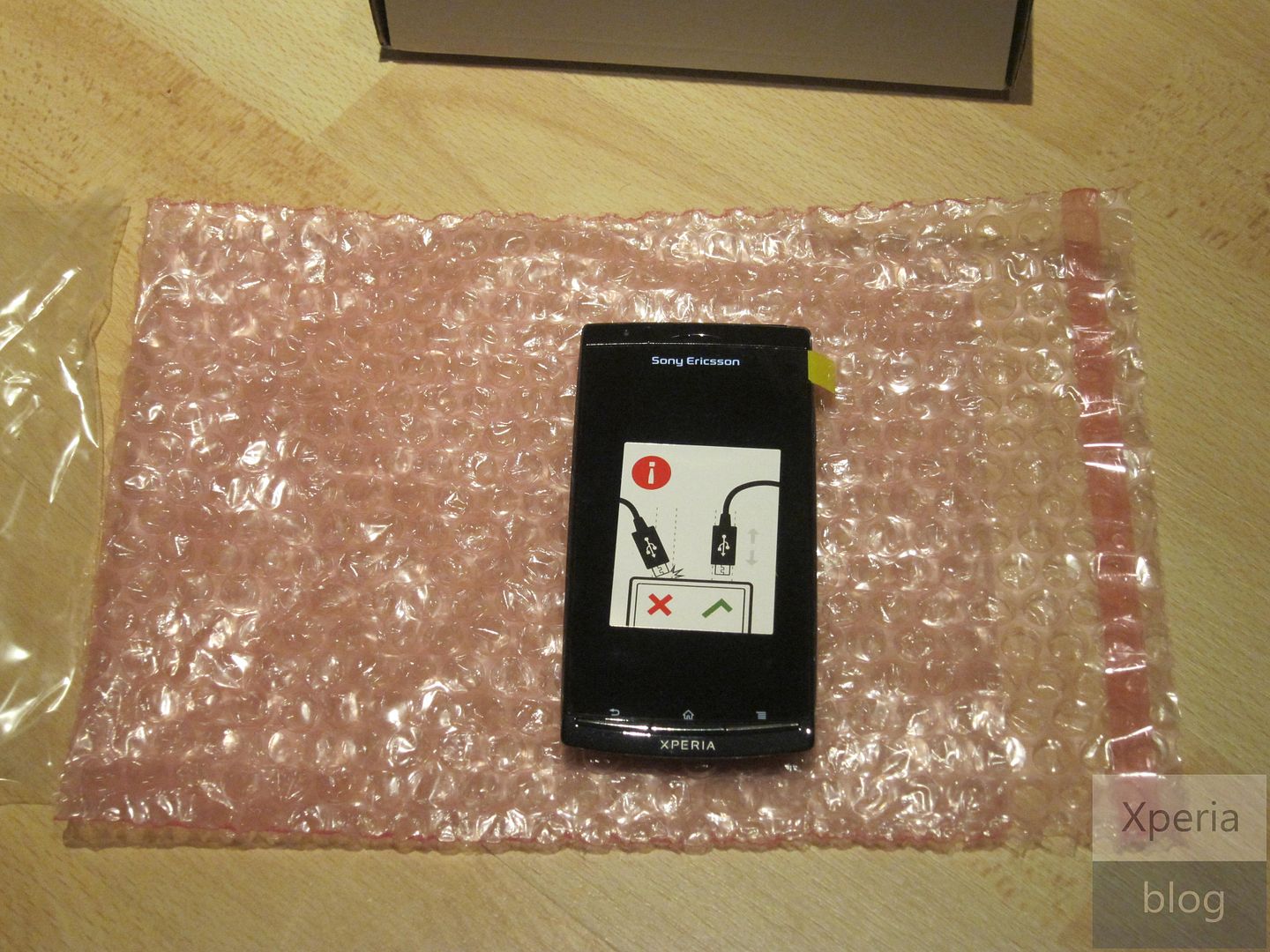 Xperia arc crack is fixed!
To our delight, our Xperia arc was returned to us fixed. It looks like the front chassis had been changed. The material looked darker than the previous one so we do wonder whether a new plastic is being used. Overall we were delighted with how Sony Mobile handled the situation. The initial call was dealt with very professionally and quickly, sending the item back to Sony did not cost us any money, the turnaround time was quick and the product was fixed. We suppose the conclusion to the story is that this crack issue is covered under your warranty, so if you do have this problem and you are coming up to the 1 year mark on your warranty, get in touch with your local Sony Mobile centre.