We are celebrating our one-year birthday today. XperiaBlog.net launched exactly a year ago and it's hard to believe how quickly the time has gone. The core of our team has been covering the Android Xperia scene since the very beginning. We launched our sister-site XperiaX10.net on 8 November 2009, months before the release of the handset. We've tried since then to bring you relevant Xperia news, reviews and guides.
We want to thank all of you for reading the blog, commenting and sending us tips. We hope 2012 will be a big year for Sony Ericsson (soon to be Sony Mobile?) and the new smartphones that we expect will be announced within the fortnight. As always, if you have any feedback or suggestions on the site please contact us using this link or via the forums. Click through for some interesting XperiaBlog.net readership stats below.
2011 Xperia Blog readership statistics
We wanted to share a few statistics with our readers, after all it is you guys that make this site what it is. In 2011 XperiaBlog.net had 909,616 unique visitors, which is not bad for a niche Android blog, especially considering the month's downtime we had in October/November over the domain dispute.
Top countries by readership
Breaking down our readership by country, most visitors come from the UK (11%). Just over 6% come from India and the United States, whilst Japan and Sweden round out the top five. You can see the top 15 below and it's great to see many readers from all parts of the globe.
Readership by Browser
This probably is more relevant to people's PC habits generally, but most people tend to access our site from Chrome (31%) and Firefox (29%) – both browsers accounting for 60% of our traffic. The mobile browsers also fare highly with 8% of traffic coming from the Android Browser and 3% from Opera Mini.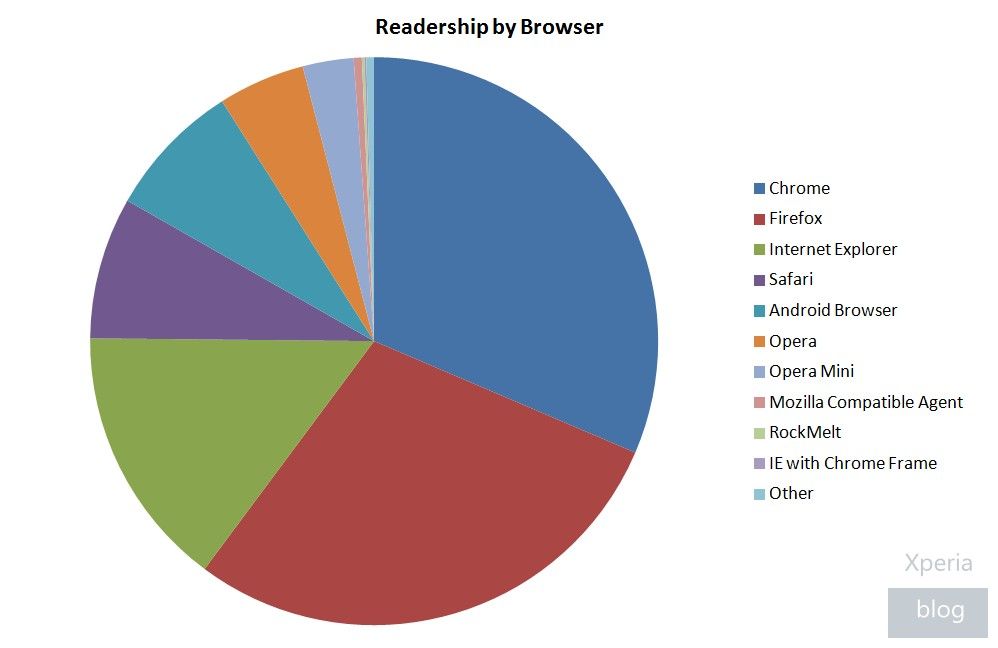 Readership by Mobile Devices
Concentrating on mobile devices alone, the vast majority of readers are Android based (83%) – no surprise there. We were surprised to see 5% of readers coming from the iPhone, these are people who already have a vested interest in iOS but still are keeping abreast of news on other platforms. iPad readership stood at 7%, whilst those using iPod's was just under 3%.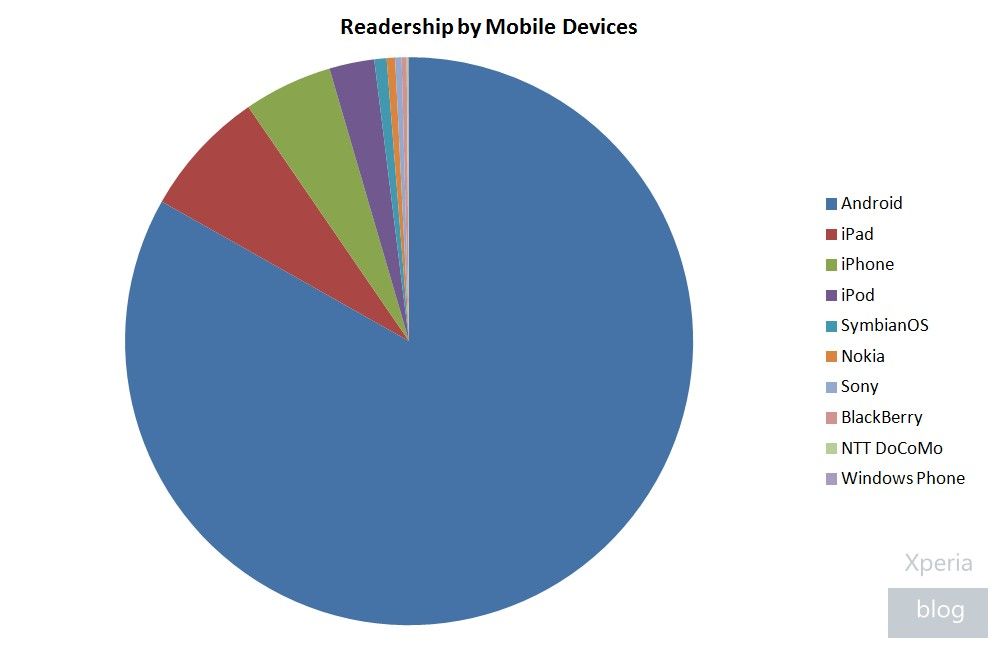 Top 10 posts of 2011 (by number of Pageviews)
The following posts were the most read during 2011. Our exclusive details on the Sony Ericsson Nozomi was by far and away the winner. We were the first site to bring details of the handset and this inside track helps to differentiate us from the bigger mobile/tech sites out there.
1. Exclusive: Sony Ericsson Nozomi landing in March 2012 with 1.5GHz dual-core, 4.3-inch 720p screen
2. Xperia Android 2.3.4 firmware (4.0.1.A.0.283) review
3. Xperia arc versus Xperia neo – which should you choose?
4. Sony Ericsson W8 Walkman Android phone announced
5. Xperia bootloader unlocking website now LIVE!
6. Xperia arc display versus Samsung Galaxy S
7. Debrand your Xperia arc [Tutorial]
8. New Sony Ericsson Home Launcher leaked
9. Camera shootout: iPhone 4S versus Xperia arc
10. Camera showdown: Xperia arc versus Nokia N8, iPhone 4 and Galaxy S
Social Media
For us it is important that you can access our content by whichever means suits you. As things stand you can subscribe to our feeds on RSS or via email. We also have feeds of all the major social media players. As a measure of posterity, we include our follower counts below as at 31st December 2011.
Facebook page likes: 3,415
Google+ page circles: 800
Twitter follower count: 7,456
We will also look to bring an optimised mobile experience in 2012. We're still trying to decide whether this will be via a standalone app or mobile optimised site, but the jury's still out on that one. In the meantime, if you have access to Google Currents, you can download the Xperia Blog edition here.