The start of the new year also brings with it our second anniversary – XperiaBlog.net is two years old today! However, those who have been with us for a while, know that our team has been around since the start of the Sony Xperia Android journey. We originally started writing at XperiaX10.net on 8 November 2009, prior to the release of the Sony Ericsson Xperia X10. We eagerly await what 2013 brings for Sony Xperia fans, we have a feeling that a special year is in store for us.
We wanted to take this opportunity to thank all of our readers for popping by to visit us, leaving comments and sending us tips. We are hugely appreciative of the special Sony Xperia community that exists – not just here, but elsewhere too. We are constantly learning and striving to keep you all abreast with the key events in the Sony Xperia space. As always, if you have any feedback or suggestions on the site please contact us using this link or via the forums. Click through for some interesting XperiaBlog.net readership stats.

2012 Xperia Blog readership statistics
We wanted to share a few statistics with our readers, after all it is you guys that make this site what it is. In 2012 XperiaBlog.net had 11.9 million pageviews and 3.0 million unique visitors, not bad for a niche Android blog.
Top countries by readership
Breaking down our readership by country, most visitors now come from India (9%), overtaking the UK at 7%. Readers from the United States are third at 5%. Around 10% of our visitors come from Malaysia, Indonesia and the Philippines. Other countries in the top 15 including the large European states, and other Asian regions such as Hong Kong, Singapore and Thailand. It's great to see such a diverse interest in Sony Xperia news.
Readership by Mobile Devices
Around 9% of our visits come from mobile devices. It is perhaps no surprise to see, Android devices dominating visits at 65%. It is interesting to note that this is down from 83% last year – so there seems to be a broader interest from other platforms. Just under 30% of visits come from Apple iOS devices. We also have a small minority visiting from Symbian and Windows Phone devices.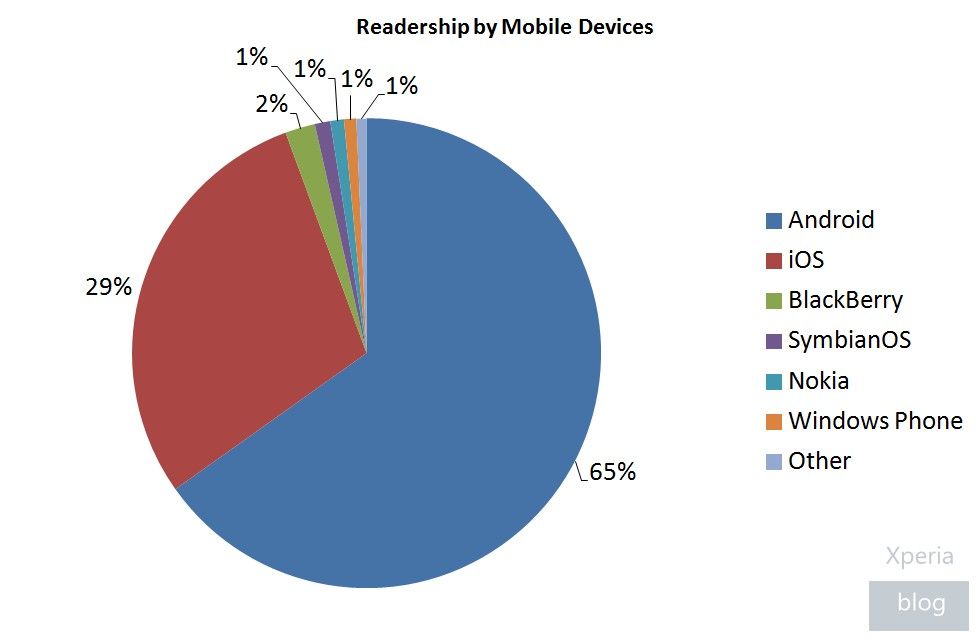 Readership by Browser
Chrome is still the most popular browser to read our website. Around 46% of you use Chrome (up from 31% last year). Firefox is the second most popular browser at 26%, with Internet Explorer rounding out the top three with 11% share.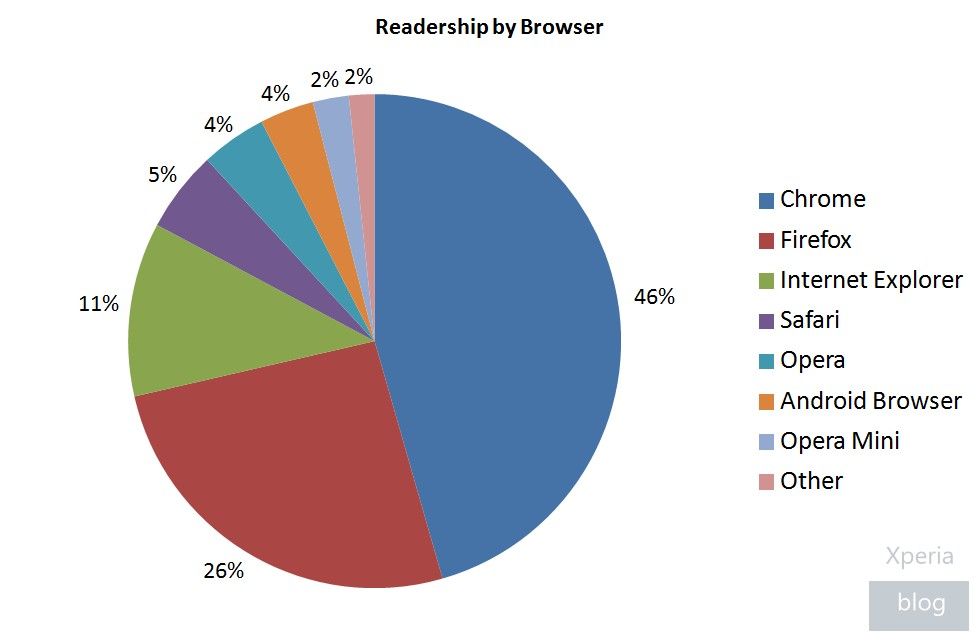 Most read stories in 2012 (by number of Pageviews)
The following posts were the most read during 2012. It's interesting to see how the most popular posts related to firmware update news/reviews/guides. Our Link2SD guide also proved very popular during 2012, despite being written the year before. It shows how many of those running handsets from 2011 battled with internal memory restrictions.
1. Install Official Android 4.0 ICS update to your Xperia arc [Guide]
2. Link2SD guide – never worry about internal memory limits again
3. Xperia arc and Xperia neo Android 4.0 ICS updates start rolling out
4. Xperia S Android 4.0.4 ICS firmware (6.1.A.0.452) review
5. Xperia S users – download ICS now; FTF file now available
6. Xperia Android 4.0 ICS update – first impressions
7. Official: 2011 Sony Xperia handsets will NOT get Android 4.1 Jelly Bean
8. Android 4.0.4 Xperia update brings LED notification issues
9. Root for Android 4.0 ICS Xperia update now available [Guide]
10. New ICS firmware (4.1.B.0.587) certified for six 2011 Xperia phones
Social Media
For us it is important that you can access our content by whichever means suits you. As things stand you can subscribe to our feeds on RSS or via email (sign up in the box on the sidebar). We also have feeds of all the major social media players. As a measure of posterity, we include our follower counts below as at 31st December 2012.
Facebook page likes: 8,338
Google+ page circles: 4,349
Twitter follower count: 12,310
If you have access to Google Currents, you can also download the Xperia Blog edition here.